Looks Like Supernatural Will Film As Usual Despite Jared Padalecki Arrest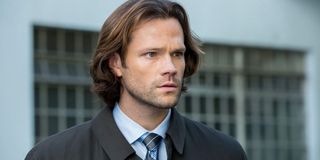 After 15 seasons of Supernatural with relatively zero bad press during that run, Jared Padalecki got arrested on Sunday, October 27. The actor, who plays Sam Winchester on The CW drama, was taken in by authorities for allegedly assaulting two people at a bar while intoxicated. Many wondered if and how this would impact the long-running series' production. As it turns out, filming on Supernatural is expected to continue uninterrupted, despite Padalecki's arrest.
Filming a 22-episode television season has often been compared to filming a mini-movie every week. In the limited days available, network TV actors and crews have to adhere to tight schedules to film around 42 minutes of episodic material. The same goes for Supernatural, but when the co-lead gets arrested, what happens then?
Per TVLine, it seems that Supernatural's production and shooting schedule will be able to resume largely unaffected by Jared Padalecki's arrest, but that's all that the source would say on the matter. The actor's bail was set at $15,000 on two counts of assault and one count of public intoxication. Neither Padalecki, The CW, or Warner Bros. TV have released any official statements regarding the incident.
The news of Jared Padalecki's arrest first broke thanks to a video of the actor putting someone – allegedly a friend who was trying to keep him calm – in a headlock. Several eyewitnesses reported that Padalecki was holding a lump of cash in his hand, for what that's worth, and additional reports also alleged that the actor punched both a bartender and the bar's general manager in the face.
The incident took place in Austin, Texas at a bar called Stereotype, according to reports, which the actor is said to visit with some frequency. There are currently debates about whether or not Jared Padalecki, who recently got a tattoo to match his Supernatural co-stars, actually owns or has a personal investment in the bar. However, it's unknown if this information would affect the outcome of the case either way.
Jared Padalecki's arrest is the first public account of this kind of behavior and comes at a time when Supernatural's final stretch of filming is heavily underway. The series, which recently killed off a few characters and is set to bring back a mystery person from ten years ago, is attracting a host of media attention in its farewell season.
Back in September, it was announced that the Supernatural star already had a new gig lined up for after Supernatural ended. Jared Padalecki was set to play Cordell Walker in the Walker, Texas Ranger reboot, which is currently being developed at The CW.
Jared Padalecki is usually active on social media, but has been noticeably absent since the events on Sunday, and it's unclear whether he'll publicly acknowledge his actions and arrest at all. There's no word yet on whether this incident will affect his job on the Walker reboot, but time will tell.
Stay tuned to CinemaBlend for more on this story and catch new episodes of Supernatural every Thursday at 8 p.m. ET on The CW.
Your Daily Blend of Entertainment News
Thank you for signing up to CinemaBlend. You will receive a verification email shortly.
There was a problem. Please refresh the page and try again.