Would Kate Walsh Ever Return To Grey's Anatomy? Here's What The Private Practice Actress Says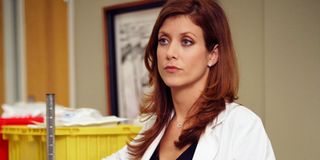 Famous for playing Dr. Addison Montgomery on Grey's Anatomy, Kate Walsh left the long-running medical drama to lead the ABC spinoff Private Practice. After six seasons, Private Practice was cancelled in 2013. Since then, Walsh has been busy doing a number of other projects, but she would "absolutely" be up for returning to Grey's Anatomy.
Things have been quickly changing at Grey Sloan Memorial. With Ellen Pompeo's Meredith Grey at risk to lose her medical license for good, Dr. Alex Karev leaving Grey Sloan, and Caterina Scorsone's Dr. Amelia Shepherd discovering she is pregnant, the hospital could use a familiar face amidst some of the chaos.
Ahead of Season 16, Grey's Anatomy showrunner Krista Vernoff said that she was "trying to get someone back" and CinemaBlend speculated that Addison Montgomery might be the one to return. In an interview with PopCulture.com, Kate Walsh teased that she wouldn't be opposed to coming back.
Kate Walsh has been busy promoting her partnership with an animal health company called Zoetis and she's currently filming a new series called Emily in Paris opposite Lily Collins. However, that doesn't mean that her schedule is too booked up for a triumphant return to Grey's Anatomy and the actress has made clear that she'd be interested in making an appearance.
When asked if the showrunner had already reached out to her, Kate Walsh remained a closed book.
The plot thickens. Now, Krista Vernoff wouldn't say exactly who she was hoping to bring back, but that negotiations were happening behind the scenes. It's possible Vernoff has already reached out to the actress about reprising her role as Addison Montgomery. While it's all just speculation, Kate Walsh has definitely stoked the fire.
To add on to the likelihood of Addison's return, Season 16 of Grey's Anatomy has been pegged as being a "season of family" and Addison is very much a part of the show's family. Kate Walsh was once a series regular, and Addison still has connections to the other characters despite Derek's death. She was also a fan favorite, so viewers would be thrilled if she made it back somehow.
Now that her former sister-in-law Amelia Shepherd has found out she's expecting a baby, it would be the opportune time for Addison to make a comeback on the show, which has already been renewed for Season 17.
Stay tuned to CinemaBlend to find out who the returning Grey's Anatomy character turns out to be. The medical drama airs every Thursday at 8 p.m. ET on ABC. If you're in need of more TV shows to watch, be sure to check out our fall preview of shows premiering through November.
Your Daily Blend of Entertainment News