Bad News For Stargate Fans: Now, Command Is Closing Shop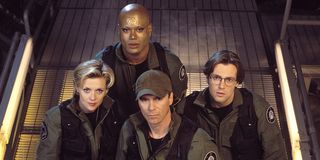 When you look at the Stargate franchise's list of achievements, it's pretty long and includes a hit movie, multiple TV series and an online hub dedicated to all things Stargate content. However, that latter in particular didn't catch on and MGM announced this week that Stargate Command will be shutting down for good.
When Will Stargate Command Be Closing?
In its announcement, the support page mentions that Stargate Command is not "shutting down exactly," but starting at 12:00 p.m. PT on December 31, the service will be discontinued and user accounts "will be closed." Right now, the team seems to be working on transitioning to putting stuff on YouTube, where products will be available to a wider audience.
Or, as is mentioned in the closing message:
If you've already paid for Stargate Command, reimbursements are expected to be available in January.
When Stargate Command was first announced at San Diego Comic-Con a couple of years ago, it came with the news the place would be a hub for fans of Stargate SG-1 and the franchise as a whole. It was also the home of Stargate Origins, a web series spinoff that followed Catherine Langford, a recurring character within the universe.
The project aired for one season in 2018 and then quietly went away. It was MGM's first attempt and a revival or spinoff since Stargate Universe went off of the air on Syfy in 2011. The status of the franchise has been pretty disappointing as of late. A planned series of movies didn't get off the ground. The web series never got a second season. No new shows have happened either.
The loss of Stargate Command means there won't be a hub for Stargate fans anymore, but according to MGM's announcement, the people who do care about Stargate SG-1, Stargate Atlantis, Stargate Universe and the Stargate movie and Origins web series apparently prefer to "engage" in platforms they are already on like YouTube and Facebook.
My read? I'm not sure enough people were subscribing and I wouldn't be surprised to see ads on the aforementioned shows when they move to YouTube, but we'll have to wait and see.
What Does This Mean?
Well, a few things will be changing. Here's what you really need to know:
I was never sure Stargate Command would work, but I do appreciate the idea of keeping the franchise alive for the fanbase. I only hope down the line that potentially this will mean new television content rather than simply a hub to talk about the shows.
Stargate SG-1's Richard Dean Anderson and Amanda Tapping have been doing some fan events lately, and have mentioned interest from MGM, so more Stargate is not outside the realm of possibility. There really just needs to be a good idea, and someone to champion it.
Amazing Race & Top Chef superfan with a pinch of Disney fairy dust thrown in. Theme park junkie. If you've created a rom-com I've probably watched it.
Your Daily Blend of Entertainment News
Thank you for signing up to CinemaBlend. You will receive a verification email shortly.
There was a problem. Please refresh the page and try again.