Fans Of ABC's Emergence Should Probably Start Worrying About Season 2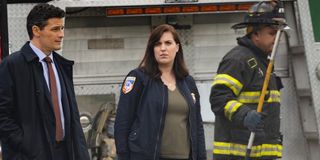 Peak TV might be a great things for fans, but the sheer amount of scripted television also means that some shows are having to fight harder to gain a loyal audience. It's a competitive space and even the Big Four networks are struggling in certain areas. ABC's Emergence is no exception, and fans of the show should probably start worrying about the chances for Season 2, because the ratings aren't looking good at all.
Emergence premiered in September to a 0.8 in the 18-49 demographic, which wasn't too shabby, but the mystery-driven thriller has been on a steady decline since then. The series returned this past Tuesday from random time off with only 2.3 million viewers, and 0.4 in the key 18-49 demo, dropping nearly 33% in viewership and 43% in demo from its previous episode's 3.4 million viewers and 0.7 demo rating. This marks a series low for the freshman show, which doesn't bode well for a possible Season 2 renewal at ABC.
Additionally, the series has been suspiciously bouncing on and off the ABC schedule in order for one-time airings like The Douglas Dynasty and Dolly Parton: Here She Comes Again! Such primetime shifts fuel the concerns that Emergence hasn't quite emerged victorious with fans, and it's possible ABC is already cluing fans in on its eventual demise, at least if the on-and-off preemptions are anything to go by.
Not to mention the fact that ABC has offered up little news about ordering any more episodes of Emergence this season. Not to be an alarmist, but that could be bad, since this is the time of the season when those kinds of decisions are being made.
Historically, ABC has been quick to cut the cord on their genre-embracing shows, and only Lost was able to survive six seasons without being cancelled. Since then, ABC has continued trying with new genre shows, but the network hasn't let them run past a second season. Most other genre shows on the network, including Forever and FlashForward, were cancelled amidst their first seasons, and it wouldn't be surprising if the network did the same with Emergence. Disappointing, sure, but not shocking.
Prior to the start of the fall season, Emergence was one of ABC's most-anticipated and hyped new shows. While it didn't get off to a great start, having The Little Mermaid Live! as a lead-in a couple of weeks ago certainly boosted the series' ratings a bit, giving it a 35% and 33% bump in demo and viewership, respectively. However, that was short-lived and audiences weren't quick to tune back into the show when it returned this week.
It's unclear whether viewers are just not invested, or if their interest is being driven away by ABC's scheduling shifts. Whatever the case, the series' low numbers compared with the rest of the Tuesday night line-up this week is concerning. (It's basically just beating the Arrow-verse shows at this point.) As Emergence continues to struggle while telling its tale about a young girl who survives a plane crash, fans should possibly be prepared for the show to get axed.
Emergence airs Tuesday nights on ABC at 10:00 p.m. ET. Stay tuned to CinemaBlend for more news on Emergence's renewal chances. In the meantime, be sure to check out our complete TV guide to see what else is on the premiere schedule from now through the end of the year.
Your Daily Blend of Entertainment News
Thank you for signing up to CinemaBlend. You will receive a verification email shortly.
There was a problem. Please refresh the page and try again.