Shameless Creator Has A New Netflix Show In The Works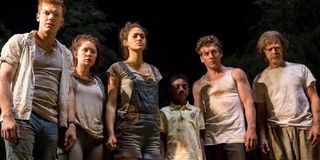 With Shameless currently in its tenth (and Fiona Gallagher-free) season, executive producer and Showtime-series creator John Wells has a new project coming down the pipeline. It's been announced that Wells and his production company, John Wells Productions, will executive produce a new female-driven dramedy for Netflix called Maid. The series will be helmed by Shameless writer and producer Molly Smith Metzler, so here's hoping it's got a familiar feel.
The new Netflix series is based on the New York Times best-selling memoir Maid: Hard Work, Low Pay, and a Mother's Will to Survive by Stephanie Land. Beyond Shameless' John Wells and Molly Smith Metzer, Maid is also being executive produced by Margot Robbie, Tom Ackerley and Brett Hedblom with LuckyChap Entertainment.
The series is set to follow a single mom, Mia, who begins work in housekeeping to make ends meet while struggling to stay afloat financially with her baby daughter. Maid is being set up as a gritty dramedy that will explore the lead character's resiliency through poverty, homelessness, and more of life's constant pitfalls.
The summary sounds incredibly heavy, but the series is being labeled a dramedy, so it's safe to say there will be plenty of laughs, too. In fact, Maid sounds right up the the alley of Shameless' John Wells, who developed the beloved Showtime series for American audiences, and there's no telling when that show might call it quits.
The critically acclaimed Shameless also documents the experience of an impoverished family just trying to get by in life, though their problems are very often self-created. Shameless has always dealt with these particular themes of life's hardships, family, and financial struggle by using humor and heart, and I'm sure the same amount of nuance will be found with Maid.
It helps that the series will be based on a memoir, so there is at least a blueprint for what to expect tonally before the show debuts. In an official statement, Netflix's Vice President of Original Series Channing Dungey shares her excitement for the series and how special it will be.
Maid does sound like it has the potential to touch the hearts of audiences everywhere, and maybe even empower those who may need it the most. If it's anything like Shameless, then viewers might have to navigate between crying and laughing, with a touch of angst. While John Wells developed Shameless for Showtime, the series remains a popular option for Netflix customers, so it's likely the streaming service wanted just such a project as Maid to serve as an original.
Additionally, this isn't the first time Maid's showrunner, Molly Smith Metzler, has worked with Netflix, which recently released their top ten most-watched shows of the last year. Metzler was also a writer on Orange is the New Black, one of Netflix's earliest original series that remains one of the streamer's most popular shows.
Maid currently doesn't have an episode order or a scheduled premiere date just yet, but stay tuned to CinemaBlend for more information about the show as it breaks. In the meantime, be sure to check out our complete guide to every new and returning show premiering through the end of the year.
Your Daily Blend of Entertainment News