Chicago P.D. Star Reveals Who's Next To Learn About Burgess' Pregnancy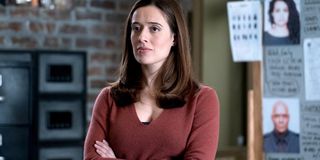 Chicago P.D. dropped some huge pregnancy news a couple of weeks ago and sent Burgess, who;s already a "little broken" in Season 7, into the land of difficult decision-making. After discovering she was pregnant, it didn't take long for Burgess to tell Ruzek, and they the only ones who know for now. Who will be the next to learn about her pregnancy, however?
Chicago P.D. star Marina Squerciati says that Burgess, who's not sure if she wants to be a mom, isn't very prepared to tell anyone about her pregnancy yet, and for good reason. Here's what she had to say about telling her boss:
It's easy to understand why Burgess isn't ready to reveal the big secret to anyone right now. She and Ruzek (Patrick Flueger), who hooked up post-crossover, are going through a lot and there are still decisions she needs to make about whether or not she wants to keep the baby. If she does decide to keep it, Burgess might have to stop working in Intelligence, and telling Voight would just make things all the more real.
However, there's only so long this secret can stay under wraps. That means that Burgess' coworkers and close friends will find out about the news eventually. In fact, Marina Squerciati told TVLine that LaRoyce Watkins' Atwater will find out very soon that Burgess is pregnant.
It sounds like Burgess is really dealing with a lot, and this pregnancy hasn't made things any easier for her. Even her relationship with Ruzek could change down the line, though it seems like they'll still be working through processing the news for a while longer. How they'll both choose to handle it, as well as how that affects their already complicated relationship in the future, remains to be seen.
All these unresolved issues with Burgess will only make the winter hiatus feel that much longer, especially after Chicago P.D. left off with that potentially game-changing Halstead cliffhanger in the fall finale. If only CBS would suddenly announce that the Chicago shows were combining for a Christmas special.
Chicago P.D. returns with new Season 7 episodes on Wednesday, January 8, 2020 at 10 p.m. ET on NBC. In the meantime, be sure to check out our complete TV guide for every new and returning show premiering through the end of the year.
Your Daily Blend of Entertainment News
Thank you for signing up to CinemaBlend. You will receive a verification email shortly.
There was a problem. Please refresh the page and try again.