Dancing With The Stars Finale Lifts, The Flash Vs. Arrow And More In This Week's TV Ratings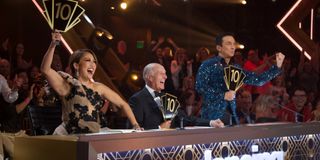 (Image credit: ABC)
The end of the fall portion of the 2019-2020 TV season is upon us, and the week of Thanksgiving didn't yield a whole lot in the way of mind-blowing primetime content. That said, there was plenty in primetime to keep viewers entertained even as Turkey Day approached, and the week of November 24 produced some interesting twists in the ratings and revealed some trends that may or may not have what it takes to continue into 2020.
Note: all ratings for the week of November 24 are Live+Same day in the key 18-49 age demographic.
Dancing With The Stars Nails A Lift With Season 28 Finale
Dancing with the Stars wrapped a divisive season on ABC with a two-hour finale on Monday, November 25, and the winner was none other than the one I thought might have an unfair advantage going into Season 28: former Bachelorette leading lady Hannah Brown. Fans venting their feelings online were mostly happy, and even co-host Erin Andrews clarified that she wasn't upset Brown came out on top with parter Alan Bersten despite appearances. The question: did viewers still care about DWTS despite the Season 28 twists that had even the judges disappointed?
Yep! Forget the frustration about Sean Spicer sticking around for as long as he did despite considerably less dance talent than the other competitors, because plenty of people tuned in to see who would win the mirrorball trophy this time around. The DWTS finale scored a 1.1 rating and won an audience of 7.7 million viewers, and neither number is too shabby.
Although Dancing with the Stars tied for second with Fox's 9-1-1 in the ratings with the 1.1 behind The Voice's 1.2, TV Series Finale reports DWTS was the only show in the 8 p.m. ET time slot to experience a ratings lift from the previous week, and what a lift it was! The 1.1 rating meant DWTS' finale was up nearly 33% from the previous week, and the 7.7 million was a bump of 16% from the prior week and made DWTS the most-watched broadcast of the night, just ahead of The Voice's 7.65 million.
Was the Dancing with the Stars voting fair this season? That's up for debate. Are there a lot of people who watched and could participate in that debate? Absolutely.
Viewers Stayed Up Late
The 10 p.m. ET hour of primetime is generally the lowest-rated and least-watched of the week, with some viewers undoubtedly giving up their seat on the couch to hit the sack and get some sleep. I've always credited the 10 p.m. time slot as the reason why Chicago P.D. is regularly below the other two One Chicago shows and why NCIS: New Orleans isn't breaking any records in its slot on Tuesday nights, but the 10 p.m. slot was a solid place to be in the week of November 24.
On Sunday, Madam Secretary was up nearly 5% in viewership with 4.34 million, although TV Series Finale reports a drop of 9% in the ratings to 0.4. That said, Monday's numbers were far more impressive. The Good Doctor on ABC, undoubtedly riding the Dancing with the Stars finale high, was up a whopping 25% in the ratings and more than 11% in viewership, with 0.9 and 6.12 million, respectively. Bull on CBS jumped 11% in the ratings to 0.6 and nearly 4% in audience to 6 million.
Even the unfortunate Bluff City Law experienced boosts of 20% in the ratings and 6.6% in viewership, to 0.6 and 3.75 million. Will NBC regret the decision to axe the freshman drama? (Probably not.)
As for Tuesday, November 26, CBS' NCIS: New Orleans continued to prove it can survive the death of LaSalle (which is more than can be said for my TV watching habits) with a 21% ratings lift to 0.8 and a very slight viewership drop of 0.5%. Emergence on ABC did drop more than 10% with its 0.4 demo rating, but it got a boost of almost 1% in audience.
As for Wednesday, November 27, CBS was the only network to air a non-rerun episode in the 10 p.m. ET slot with SWAT, but it was a solid decision on the part of the Eye Network. With its 0.7 and 5.21 million, SWAT was up 40% in the ratings and 38% in viewership. As Thursday was Thanksgiving, only reruns aired in the 10 p.m. broadcast network slot, but the Sunday-Wednesday numbers are enough to suggest that people were staying up later and watching more TV at that hour than usual.
The Flash Vs. Arrow
The original series of the Arrow-verse and its very first spinoff are airing back-to-back on Tuesday nights for the first portion of the 2019-2020 TV season, before Arrow wraps permanently in early 2020 and The Flash becomes the longest-running active series in the Arrow-verse. In the week of November 24, The Flash was -- as to be expected by this point -- ahead of Arrow in the numbers, but there was a twist that makes a Flash vs. Arrow comparison worth looking at. (No, not that "Flash vs. Arrow.")
As stated, The Flash was on top of Arrow in both ratings and viewership. On the night of November 26, The Flash won a rating of 0.4 and audience of 1.2 million, according to TV Series Finale, which soundly beats Arrow's 0.3 rating and 0.79 million. So, why is it worth comparing one to the other, especially now that the heroes are bromantic rather than competitors? Well, for this past week, The Flash experienced noticeable dips across the board while Arrow rose in both categories.
The Flash fell 20% to hit that 0.4 rating and more than 7% for the 1.2 million, whereas Arrow jumped an impressive 25% for its 0.3 and more than 7% for its 0.79 million. The Flash won in the numbers, but Arrow won in percentage increases from week-to-week. As an Arrow loyalist, would I be happier if Arrow at least hit the 1 million mark? Of course.
Still, bumps upward rather than dips downward bode well for Arrow in its final run of episodes, and suggest that folks who tune into the "Crisis on Infinite Earths" crossover won't just be doing it for the Scarlet Speedster. These were also Arrow's highest numbers since its amazing Season 8 premiere back in October, so maybe the Emerald Archer should celebrate a Thanksgiving miracle! Maybe if he wasn't preoccupied with his looming demise. Again.
NCIS: Los Angeles Was Low Before Milestone
NCIS: Los Angeles will hit a major milestone with its December 1 broadcast, which will be its 250th on CBS. While NCIS: LA hitting 250 episodes in Season 11 somewhat pales in comparison to the NCIS mothership which is going strong in Season 17, that's still a milestone worth celebrating. Unfortunately, the ratings and viewership in Episode 249 on November 24 weren't too great. Maybe NCIS really does need to become more like One Chicago with the change coming for NCIS: LA and NCIS: New Orleans!
The November 24 episode, called "Kill Beale: Vol. 1" in honor of the character who has been missing from a lot of Season 11, won a rating of 0.6 and audience of 6.29 million. That puts it behind Bob's Burgers on Fox in the time slot in the ratings, with its 0.9, although NCIS: LA was admittedly easily on top in the viewership vs. Bob's Burgers' 2.29 million. Still, those aren't numbers worth celebrating a week before a milestone few shows ever hit.
The good news is that the 0.6 and 6.29 million aren't NCIS: LA's lowest numbers of the season, which proves that this show can and does bounce back. Since Kensi and Deeks can't get married every week to deliver wedding-worthy numbers for NCIS: LA, hopefully Episode 250 (co-penned by Deeks' actor Eric Christian Olsen) coupled with the change coming to CBS' Sunday night lineup will set NCIS: Los Angeles up for a winning streak in the new year.
So, there you have some of the biggest trends, and outliers for the week of November 24 in TV ratings! Although fall finale season is wrapping up, there are still TV events that can create some interesting ratings twists in what remains of 2019, not the least of which is the beginning of the long-awaited "Crisis on Infinite Earths" Arrow-verse crossover on The CW in December. For more of what's in store now and in the not-too-distant future, check out our winter and spring premiere schedule.
Laura turned a lifelong love of television into a valid reason to write and think about TV on a daily basis. She's not a doctor, lawyer, or detective, but watches a lot of them in primetime. Resident of One Chicago, the galaxy far, far away, and Northeast Ohio. Will not time travel, but will sneak references to The X-Files into daily conversation.
Your Daily Blend of Entertainment News
Thank you for signing up to CinemaBlend. You will receive a verification email shortly.
There was a problem. Please refresh the page and try again.