DC Had Issues With Aquaman's Portrayal In Kaley Cuoco's Harley Quinn TV Show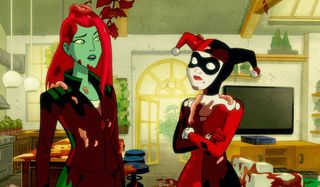 (Image credit: dc universe press)
For the most part, DC Universe has been lenient with its new Harley Quinn animated series. The Big Bang Theory's Kaley Cuoco teased that the series was a "tad R-rated" and not for the faint of heart, due to rampant F-bombs and balls-out humor. However, when it came to the portrayal of Aquaman, Harley Quinn showrunner Justin Halpern reveals that DC did have some issues with it.
Drawing inspiration from Jason Momoa's portrayal of Arthur Curry in Justice League and last year's blockbuster success story Aquaman, executive producer Justin Halpern explained the reasons behind DC's displeasure with Harley Quinn's take on the water-bound character. Here's what he had to say:
That's surprising because Harley Quinn is fraught with expletives and violence. (Kaley Cuoco described as a "wet dream" her Big Bang Theory co-stars' characters.) So, it seemed like anything would have been fair game on the show. However, even DC has their limits when it comes how certain characters are portrayed, so they put their scaly foot down. I can't imagine how they would have reacted if Harley Quinn tried to do the same with Batman.
While comic book characters almost necessarily go through multiple iterations across story arcs and medium changes, some portrayals do threaten to go overboard. That seems to have happened with Harley Quinn's version of Aquaman. Perhaps DC was worried that the show was making him a jocky caricature, so Justin Halpern and his team of writers had to scale it back.
Although dialing up Jason Momoa's "bro type" didn't work for the show, it's perhaps flattering that Justin Halpern wanted to model Harley Quinn's Aquaman after the actor, who was the first to play the King of Atlantis in live-action.
Besides that little nitpick, however, Harley Quinn's showrunner told Metro.co.uk that they "kept in almost everything." Thankfully, that included Kaley Cuoco getting free reign when voicing the "insanity" of her iconic character, a performance that she honed to the point where she felt she needed to re-record the earliest episodes of Harley Quinn in order to keep the character on equal footing throughout the entire season.
Harley Quinn's first episode is now available to stream on DC Universe, with new Season 1 episodes dropping every Friday. As the first half of the TV season comes to an end and fall finales leave us with cliffhangers, get a head start on 2020's offerings with our complete guide to all the shows premiering midseason.
Your Daily Blend of Entertainment News