Kaley Cuoco Says 'Prepare For Insanity' As Harley Quinn Series Gets Premiere Date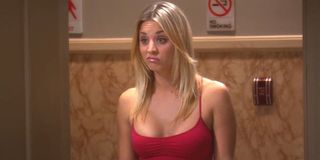 DC Universe, the DC Comics streaming service, seemingly hit a bit of a rough patch earlier this year when Swamp Thing was cancelled after just one episode. Given that its new animated series Harley Quinn was expected to drop this year, some worried that show would meet the same fate. However, there's smooth F-bomb-filled sailing ahead, as DC Universe has finally given Harley Quinn a premiere date, and The Big Bang Theory's Kaley Cuoco is very excited about it.
It was at last year's New York Comic Con that Kaley Cuoco's Harley Quinn series confirmed it would be premiering in Fall 2019. Fast forward a year, and DC Universe has finally revealed Harley Quinn's premiere date: November 29, 2019. Kaley Cuoco, who will voice the unhinged and newly single title character, took to Instagram to share her enthusiasm about the show's release.
Along with the caption, she posted a still of Harley Quinn and Poison Ivy, who is wearing a nifty little joke T-shirt. .
Harley Quinn will be the first DC animated series that will feature the villainous sidekick as a lead rather than as a supporting character. She'll wreak havoc along with her best friend Poison Ivy (voiced by Wet Hot American Summer's Lake Bell), and they'll also work to become members of the Legion of Doom. Of course, viewers can still expect the Joker (voiced by Doom Patrol's Alan Tudyk) to appear in some capacity after the duo's split, but he won't be taking all the attention away from Harley and her villainous endeavors, much to his chagrin.
Don't expect the animated show to be like Batman: The Animated Series or any other animated DC property, either. In fact, Harley Quinn is very much an adult animated show. Kaley Cuoco even warned viewers that the show is a "tad R-rated" when the trailer dropped a couple of months ago at San Diego Comic-Con.
There's a lot of blood, people getting shot in the groin, and other such chaos. If nothing else, DC Universe has allowed their shows free rein in terms of content – everyone on Titans drops the F-bomb consistently – and that looks to continue with Harley Quinn.
As a character, Harley Quinn is unique in that she was specifically created for the animated world, getting introduced in 1992's Batman: The Animated Series. Since then, she's been adapted for comic books and is often an accomplice to the Joker, supporting his vendetta against Batman. Together, they're the evil "It" couple of Gotham City.
Harley Quinn didn't make her live-action debut until David Ayer's Suicide Squad, where she was played by Margot Robbie. The character has since branched out on her own to lead the new movie Birds of Prey (and the Fantabulous Emancipation of One Harley Quinn), which presumably won't be tying into the DC Universe series at all.
Harley Quinn will be available to stream on DC Universe on November 29. In the meantime, check out our complete TV guide to every new and returning show for the fall season, along with their premiere dates and times.
Your Daily Blend of Entertainment News