Kaley Cuoco Wanted To Re-Record Episodes Of Harley Quinn For DC Universe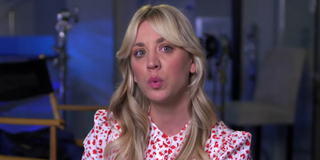 (Image credit: screenshot of dc universe promo)
After playing Penny on The Big Bang Theory for 12 seasons, Kaley Cuoco jumped at the chance to voice the titular character for DC Universe's hardcore comedy Harley Quinn. As it goes with any character, however, the actress had to chisel out her ideal Harley Quinn voice. Once she did, Cuoco wanted to go back and re-record earlier episodes of the animated series.
Voicing Harley Quinn takes a lot of talent and skill, especially because so many other actresses have laid down foundations for what the villainess is supposed to sound like. So it's natural that Kaley Cuoco felt some pressure, and she admits it took her several episodes into Harley Quinn's 13-episode first season to truly find the perfect Harley performance.
Voice acting sounds like it posed some challenges for Kaley Cuoco after her Big Bang prominence, and she has explained why voicing Harley Quinn was harder than her previous work. Still, it seems she found her groove the longer she got to play the "insanity" of the iconic character, which allowed her to relish in performances that Cuoco isn't exactly known for.
To that end, getting Harley's voice just right for the animated series wasn't the only challenge the actress had to tackle. DC Universe is well-known for letting its characters curse, so voicing Harley meant Kaley Cuoco would be cursing way more than she ever has before in a role. However, she told TVLine that she had no reservations regarding the aggressive dialogue and expletives.
That's good to hear because Harley Quinn is a "tad R-rated," after all. The Joker definitely isn't the only one who drops F-bombs on the show, though this series pairs Harley's solo adventures with Poison Ivy rather than her Batman-obsessed ex-boyfriend.
Harley Quinn's been a long-time coming for DC Comics fans. Last year, it was announced that the animated series would be coming to the streaming service this year, but the premiere date wasn't revealed until a couple of months ago. Thankfully, the wait is over.
The first episode of Harley Quinn is now available to stream on DC Universe, and new episodes will be released every Friday morning. For more on what to watch, be sure to check out our complete guide to every new and returning show premiering through the end of the year, and even beyond into 2020.
Your Daily Blend of Entertainment News
Your Daily Blend of Entertainment News
Thank you for signing up to CinemaBlend. You will receive a verification email shortly.
There was a problem. Please refresh the page and try again.