The Masked Singer's Latest Elimination Scared Herself After One Performance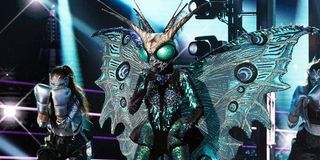 Spoilers ahead for the December 4 episode of The Masked Singer Season 2 on Fox.
Pitted against Thingamajig, Butterfly didn't stand much of a chance at winning The Masked Singer once fans realized who she was, and singing the hit "Bang Bang" pretty much gave her away. After this week's episode of the competition series revealed Butterfly to be none other than former Destiny's Child member Michelle Williams, The Masked Singer's latest elimination admitted that she'd actually scared herself after one performance.
After ultimately losing the vote to Thingamajig, whose identity is still shrouded in secrecy, Michelle Williams says she blames herself for her elimination because her song choices made it easy to recognize her voice. In fact, Williams had this to say about how she reacted to hearing her own voice while backstage.
It sounds like The Masked Singer was therapeutic for Michelle Williams, even though she didn't make it to the finals. The Destiny's Child singer, who reunited with fellow members Beyonce and Kelly Rowland at Coachella last year, has struggled with mental health issues recently, and the Fox show gave her a chance to open up vocally again.
Speaking to EW, the Grammy-winning Michelle Williams also explained how grabbing the microphone to sing on The Masked Singer hit her in a "different way," after she'd taken the last year off following non-stop work for 20 years.
You could almost say she was like a real life butterfly, and that The Masked Singer helped her finally emerge from her cocoon!
Although Michelle Williams will no longer be gracing fans with her vocal talents, her run on The Masked Singer has been a memorable one. It was even more enjoyable to watch the judges argue over who they thought she was, though Jenny McCarthy was the first to guess Michelle Williams' identity correctly following her performance. (Ken Jeong briefly believed Williams was none other than Scandal's Kerry Washington!) The Masked Singer won't be the same without her.
You can check out her performance of Imagine Dragons' "Believer" below.
Does Butterfly's nemesis Thingamajig, who flirted heavily with series judge Nicole Scherzinger, stand a chance at making it to the Season 2 finale? Find out with new episodes of The Masked Singer airing on Fox Wednesdays at 8 p.m. ET. For more on what to watch for in 2020, be sure to check out our winter and spring TV schedule for all upcoming premieres.
Your Daily Blend of Entertainment News