A Charlie Brown Christmas: 6 Behind-The-Scenes Facts You Probably Didn't Know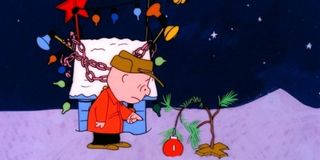 It's the holiday season once again, which means that soon many families will watch one of the most beloved animated holiday specials of all time. A Charlie Brown Christmas has held up as a popular holiday favorite for many, though many may not be aware of its history or how it came to be.
For those familiar with the story, but not so familiar on the history of A Charlie Brown Christmas, this is the place to be. Below are some factoids that highlight the beginnings of how the special was created, Charles Schulz's influence on the project, and how a special that few had faith in ended up being a holiday classic that could very well be on television another 50 years from now.
A Charlie Brown Christmas Special Started With A Documentary
Peanuts and Charlie Brown exploded in popularity in the in the 1960's, and television producer Lee Mendelson wanted to capitalize on it. According to A Charlie Brown Christmas: The Making Of A Tradition, Mendelson's idea was to produce a documentary on the comic strip, and he met with creator Charles Schulz to get the ball rolling. The two came to an agreement for the documentary, and Mendelson went about shopping his project to advertisers. Mendelson eventually got a call from the McCann Erickson ad agency whose offer was not for a documentary, but a Christmas special.
The proposal was wildly different than what Lee Mendelson proposed, as his documentary was only going to feature 1-2 minutes of animation max. McCann Erickson had a big client who wanted to advertise during the holiday season, so Mendelson agreed despite he and Charles Schulz only having a few days to present an outline to the client. Obviously, they pulled it off, or we wouldn't be talking about A Charlie Brown Christmas Special today!
Coca-Cola Made A Charlie Brown Christmas Special Possible
The aforementioned client McCann Erickson touted was Coca-Cola, who wanted a special to fund for the holiday season. Charles Schulz and Lee Mendelson came up with a bare bones outline of the special to pitch in about a day's time, and Coca-Cola (who likes to do offbeat promotional stuff from time to time) was impressed. They bought the special in the Spring of 1965, with the expectation that it would be ready to air in December.
Back in the day it wouldn't have been rare to know A Charlie Brown Christmas was sponsored by Coca-Cola. There were a couple advertisements peppered into the special. An example is that, in the original animation, the sign Linus crashes into has a big Coca-Cola logo on it. Advertising laws changed over the years, however, and mentions to Coca-Cola were removed to stay in accordance with those laws. Still, if it weren't for Coca-Cola, we may never have seen Charlie Brown on television.
A Good Chunk Of A Charlie Brown Christmas Special's Most Iconic Song Was Written In A Rush
"Christmas Time Is Here" is one of the most iconic song of A Charlie Brown Christmas, so it's kind of surprising a lot of the Charlie Brown classic's content was last minute. The song itself was composed by jazz pianist Vince Guaraldi, and while that was a thoughtfully composed piece, the lyrics were not.
Lee Mendelson struggled to find a lyricist to write a song to the tune, and A Charlie Brown Christmas was set to premiere in a few weeks. Mendelson was in a pinch, and decided that he would come up with a poem on his own (via Cincinnati Enquirer) to serve as the lyrics to the song. That song became the most memorable piece of music from A Charlie Brown Christmas, though the "Linus and Lucy" theme is definitely a close second.
Charles Schulz Fought Against Having A Laugh Track
As the creator of Peanuts, Charles Schulz had a heavy say in what would and wouldn't be in A Charlie Brown Christmas. This meant he got to have a say in some pretty big decisions, some of which others didn't agree with. One of his most controversial decisions was to vote against a laugh track in the special, which was a fairly commonplace practice at the time. In Schulz's opinion, the audience didn't need to be told when to laugh.
While the decision was controversial at the time, the absence of a laugh track may be what has kept A Charlie Brown Christmas feeling more modern as its aired through the decades. Laugh tracks are still around, but it's more than fair to say there are fewer shows with it nowadays. Charles Schulz bold stance probably didn't factor into that, but it is cool to see how progressive the Peanuts creator was in stating that audiences don't need to be instructed on when to laugh.
Charles Schulz Also Fought For Linus Reciting Scripture From The Bible
A Charlie Brown Christmas was always about the meaning of Christmas, but Charles Schulz wanted to take things further. He wanted Linus to recite scripture from the Bible during the special, a concept that gave his animator and producer Lee Mendelson pause. Religion was a touchy subject, and neither knew how the public or the network would feel about having religious text highlighted.
Their concerns didn't change Charles Schulz's mind, who didn't see the fact that it wasn't done by other specials as a valid excuse not to do it. Linus' scene was put right in the special's climax, which would've made it difficult to cut or change before the airing. Obviously no one ever tried to pull the scene, and despite numerous small changes to the animation over the years, Linus' Bible bit has remained a core part of the special.
Executives And Producers Didn't Like The Final Product
After A Charlie Brown Christmas was completed, executives from CBS and producers gathered to watch the final project. Producer Lee Mendelson remembered executives were negative after seeing the special, and he believed that had it not been a week out from the television premiere, it may not have aired. Animator Bill Melendez had the same attitude, thinking that he and his team of animators had ruined Charlie Brown and the gang with their animation.
Of course, the opposite was true, and A Charlie Brown Christmas was a resounding success. The success of Charlie Brown prompted CBS to order four more specials, and the program was awarded an Emmy for Outstanding Children's Program the following year. Today, A Charlie Brown Christmas is regarded as a Christmas classic, and plays on television at least once during the holiday season. It's safe to say, it still has its fair share of fans many decades later.
The 12 Best Christmas Holiday Movies Currently Streaming
For those that don't already own A Charlie Brown Christmas, the special will air on ABC Tuesday, December 17 at 8:00 p.m. ET. Stick with CinemaBlend for more on holiday programming and for a look at what's happening with television and movies in 2020 and beyond.
Your Daily Blend of Entertainment News
Mick likes good television, but also reality television. He grew up on Star Wars, DC, Marvel, and pro wrestling and loves to discuss and dissect most of it. He's been writing online for over a decade and never dreamed he'd be in the position he is today.
Your Daily Blend of Entertainment News
Thank you for signing up to CinemaBlend. You will receive a verification email shortly.
There was a problem. Please refresh the page and try again.