10 Shows You Should Stream If You Like Chicago P.D.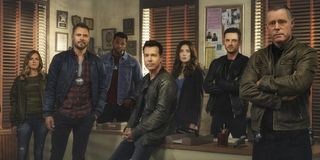 This November, Chicago P.D ended its fall season 7 finale with a major cliffhanger involving Jay Halstead (Jesse Lee Soffer). To make matters worse, NBC doesn't air Chicago P.D Season 7's winter premiere until January 8, 2020. That leaves One Chicago fans with a very chilly start to winter. Only one thing can take our minds off the Chicago P.D. fall finale: finding a new streaming show to watch during the short hiatus.
Dick Wolf and Matt Olmstead created Chicago P.D in 2014. It follows the 21st District of the Chicago Police Department as they try to bring the city to justice and combat their own professional and personal demons. Chicago P.D became the second addition of NBC's One Chicago franchise that includes Chicago Fire, Chicago Med, and now cancelled Chicago Justice. The series has been on for over seven seasons, which means the cast continues to evolve and change along with their characters, and we're excited to see what unfolds for the rest of Chicago P.D Season 7.
Most Chicago P.D fans already watch the other series in the One Chicagofranchise, so we purposely left those off this list. Instead, we focused on a variety of police procedurals, dramas, and a few comedies, that have some elements of Chicago P.D that may appeal to the show's fans. Hopefully, these streaming shows help make the wait for Chicago P.D's return a little easier.
NYPD Blue (Hulu)
NYPD Blue aired on ABC from 1993 to 2005. NYPD Blue's timelessness is mainly due to Dennis Franz's complex portrayal of Andrew Sipowicz for all 12 seasons. The series had a revolving door of other main and supporting characters, including David Caruso, James McDaniel, Amy Brenneman, Jimmy Smits, and Mark-Paul Gosselaar. At the time, NYPD Blue faced censoring issues due to its gritty depiction of NYC crime, especially as a broadcast network show. NYPD Blue escaped the FCC and any controversy long enough to become one of the longest running primetime series of all time. It's also considered one of the greatest, often receiving accolades for its writing and acting. Chicago P.D fans will enjoy NYPD Blue because both series tackle the emotional and physical pressures of trying to bring justice to a corrupt city.
WHERE TO STREAM: Luckily for NYPD Blue fans (future and past), Hulu has all twelve seasons available to stream. Each season has about 22 episodes, so it'll keep binge-watchers busy all winter. STREAM IT HERE. (opens in new tab)
NCIS (CBS: All Access)
CBS' hit drama NCIS hit a record 17 seasons in September, making it the second longest drama still on the air. NCIS follows Leroy Jethro Gibbs (Mark Harmon) as he leads a team of highly trained and intelligent Naval Criminal Investigative Service officers. These men and women report to duty whenever a crime happens that involves a Navy or Marine employee. The beloved drama blends comedic elements to give it a lighter touch than many other crime based dramas.
WHERE TO STREAM: NCIS and its connected programming, NCIS: Los Angeles and NCIS: New Orleans are available to stream on CBS: All Access. The CBS only streaming service offers current and all past seasons of NCIS and its spin-off series. STREAM IT HERE. (opens in new tab)
Blue Bloods (CBS: All Access, Hulu)
Blue Bloods follows the Reagan family led by patriarch and New York City Police Commissioner Frank Reagan (Tom Selleck). Each member of the Reagan family represents a different piece of the justice system, and their jobs are due to the family's generational history with law enforcement. At the heart of Blue Blood is a family saga about the turmoil and triumphs every family faces, this time with law and order mixed at the center. Chicago P.D and Blue Bloods share the idea of familial bonds, but for Chicago P.D it's the family you make vs Blue Bloods' family that you're born into.
WHERE TO STREAM: The first nine seasons of Blue Blood are available to stream on Hulu, with current episodes of Blue Bloods Season 10 only being available on CBS: All Access. STREAM IT HERE (opens in new tab).
9-1-1 (Hulu)
Ryan Murphy, Brad Falchuk, and Tim Minear teamed up with Fox once again to produce their version of a procedural drama, 9-1-1. 9-1-1 follows Los Angeles first responders as they navigate the latest disaster both in their professional and personal lives. 9-1-1 has only been on the air for three seasons, but it's on it's way to becoming Fox's version of One Chicago, with a spin-off, 9-1-1: Lone Star set for a January 2020 premiere. 9-1-1's ensemble cast includes Angela Bassett, Peter Krause, and Jennifer Love Hewitt.
WHERE TO STREAM: 9-1-1 is available on the Fox app through a cable subscription. Season 1 and 3 of 9-1-1 are available on Hulu. STREAM IT HERE (opens in new tab).
Law and Order: SVU (Hulu)
Law and Order: SVU and Chicago P.D exist in the same world, explained through crossovers, because they share Dick Wolf as a creator. Mariska Hargitay's Olivia Benson leads the Special Victim Unit of the New York Police Department. Law and Order: SVU is the longest running television series currently on the air with 21 seasons. Dick Wolf's success with the Law and Order franchise, especially the original series and SVU, led the way for the One Chicago franchise.
WHERE TO STREAM: All 21 seasons of Law and Order: SVU are available to stream on Hulu. It'll be a long weekend, but it is possible to finish all 21 seasons before Chicago P.D's return. STREAM IT HERE. (opens in new tab)
Bosch (Prime Video)
Bosch follows Harry Bosch (Titus Welliver), a Los Angeles police detective who tries to overcome case and personal struggles. Harry Bosch novels by best-selling crime novelist Michael Connelly act as inspiration for Bosch. Michael Connelly is also the series' executive producer. Each season of Bosch follows a different series of Harry Bosch crime novels, like City of Bones, The Last Coyote, and The Concrete Blonde. Bosch and Chicago P.D are similar in that both series base fictional cases on stories that are relevant to today's political and social climate.
WHERE TO STREAM: Bosch is a Prime Video original and only available through Amazon Prime. Bosch Season 6 hits Prime in April 2020. STREAM IT HERE (opens in new tab).
The Shield (Hulu)
Michael Chiklis played Vic Mackey for seven seasons on The Shield. The Shield is very different from most police dramas because it deals with main characters that are just as corrupt as the criminals they chase. The FX series received numerous awards, including an Emmy for Michael Chiklis' role as Vic. The Shield has more mature themes and a darker tone than Chicago P.D, but in certain episodes, they both show the occasional blurred lines and instability of the justice system.
WHERE TO STREAM: Hulu has all 88 episodes of The Shield ready, so begin the series and embrace its dark world. STREAM IT HERE (opens in new tab).
Southland (Hulu)
Southland originally aired on NBC in 2009. It received a second season pick-up from NBC, but then the network decided to cancel it before the second season premiere. TNT stepped in and added Southland to its lineup. The series aired on TNT for four additional seasons. Southland starred Michael Cudlitz, Ben McKenzie, Regina King, Shawn Hatosy, and C. Thomas Howell, and their character's lives was a lot more of the focused than their cases, which is a departure from the usual procedural drama format. Chicago P.D fans will enjoy Southland because both series explore the people behind the badge.
WHERE TO STREAM IT: All five seasons of Southland are available through Hulu. STREAM IT HERE (opens in new tab).
Monk (Prime Video)
Tony Shalhoub plays lead character Adrian Monk in USA Network's hit series Monk. Monk aired for eight seasons on USA Network, and during its time, it was the most watched scripted television series on cable. Monk differed from most procedural dramas in it created a cop-turned-private detective character that wasn't the typical tough, fearless guy. Instead, Adrian Monk was a character driven by phobias, anxiety, and compulsive behavior. Tony Shalhoub transformed the idea of how cops should look and behave on television. Monk is for Chicago P.D. fans who want to try something different than the typical procedural dramas.
WHERE TO STREAM IT: Amazon Prime offers all eight seasons of Monk as part of its basic Prime Video subscription. STREAM IT HERE (opens in new tab).
Brooklyn Nine-Nine (Hulu)
Brooklyn Nine-Nine follows the crew of the NYPD Brooklyn 99th precinct. Andre Braugher and Andy Samberg lead the ensemble cast of this former Fox hit comedy (now NBC hit comedy). Brooklyn Nine-Nine follows the usual police procedural format with a crime of the week, but takes a comedic approach to solving crimes and saving the day. Brooklyn Nine-Nine is what Chicago P.D. could be if it was a comedy instead of a drama. Since Brooklyn Nine-Nine and Chicago P.D. are both on NBC, we're all just waiting for that Law and Order: SVU, One Chicago, and Brooklyn Nine-Nine crossover event; come on NBC, make it happen.
WHERE TO STREAM IT: Hulu offers exclusive access to all six (soon to be seven and eight) seasons of Brooklyn Nine-Nine. STREAM IT HERE (opens in new tab).
Chicago P.D Season 7 returns in January 2020, but the first nine episodes of the season are available to stream on Hulu. (opens in new tab)
Your Daily Blend of Entertainment News
Spent most of my life in various parts of Illinois, including attending college in Evanston. I have been a life long lover of pop culture, especially television, turned that passion into writing about all things entertainment related. When I'm not writing about pop culture, I can be found channeling Gordon Ramsay by kicking people out the kitchen.
Your Daily Blend of Entertainment News
Thank you for signing up to CinemaBlend. You will receive a verification email shortly.
There was a problem. Please refresh the page and try again.