Whether Halstead Survives, What Happens To Severide And More Big Questions From One Chicago's Fall Finales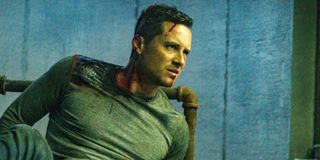 (Image credit: NBC)
Warning: spoilers ahead for the fall finales of Chicago Fire Season 8, Chicago P.D. Season 7, and Chicago Med Season 5.
The three shows of NBC's One Chicago never fail to deliver finales packed with twists, turns, and cliffhangers to keep fans talking throughout hiatus. Fortunately, the break following the fall finales of Chicago Fire, Chicago P.D., and Chicago Med is much shorter than the summer hiatus between seasons, so the big questions left over from the fall can be answered in a matter of weeks rather than months.
Chicago Fire and Chicago P.D. ended their fall finales on cliffhangers with the lives of major characters in jeopardy, and Chicago Med turned relationships upside down to subvert expectations. So, read on for some of the biggest One Chicago questions left after the fall finales, as well as some teases from folks from behind the scenes at Fire, P.D., and Med about what's in store.
What Happens To Severide And The Arsonist On Chicago Fire?
Chicago Fire seemingly was going to end its fall finale on a positive note, with a happy ending to the Casey/Dawson reunion and Cruz discovering a heartwarming video of Otis. Then, Severide and new partner Seager dropped by a warehouse packed with flammables belonging to an arsonist who was supposed to be on the run, but who Severide discovered in the basement... holding a lit flare.
While it's difficult to imagine Severide being killed off Fire any time soon, showrunner Derek Haas shared with CinemaBlend why Fire went with the cliffhanger so soon after Otis' death:
Will this unique arsonist blow up the building, with Severide making a miraculous dive for cover? Or will Severide disarm the bad guy before he can drop the flare and potentially kill them both? Or will Severide be seriously injured? The winter premiere trailer suggests that Severide isn't going to make it out unscathed, but we'll have to wait until January to get the context for the footage.
Will Halstead Survive His Gunshot Wound On Chicago P.D.?
Chicago P.D. ended the fall TV season with the biggest One Chicago cliffhanger, all due to Jay Halstead and the big heart that regularly gets him into trouble. The fall finale revealed Halstead hadn't let the case of Marcus West go, as Voight had instructed, and he wound up bloody and captive with West's wife, who didn't know he was a cop.
When all signs pointed toward both of them dying in captivity, Halstead came clean to Angela that her husband hadn't killed two little boys, saying that it was instead Halstead's and the CPD's fault. Unfortunately, Angela got her hands on a gun and shot Halstead just after he'd saved the day and reunited with Upton. Actor Jesse Lee Soffer told CinemaBlend that this "could spell the end" for good old Jay, but that's not all:
Will Halstead survive a direct shot to the chest? Well, a recent NCIS: New Orleans twist has changed the way I watch all primetime enough for me to worry, and the trailer for P.D.'s winter premiere is certainly foreboding, but it's hard to imagine P.D. without Halstead.
How Will Chicago P.D. And Fire Impact Chicago Med?
Speaking of Jay Halstead getting shot on Chicago P.D. and Severide possibly being injured on Chicago Fire, does this mean Chicago Med's winter premiere will have to deal with the fallout of what happened on the other two shows? Since the P.D. winter premiere trailer features Will Halstead at the hospital looking worried about his brother's odds of survival, it's entirely possible that Med will have to clean up some of One Chicago's messes.
That said, Med airs its winter premiere before Fire and P.D., so Med would drop some big One Chicago spoilers if the doctors are dealing with the Fire/P.D. fall finale fallout. Then, there's a tease shared by Med co-showrunner Diane Frolov:
Will Halstead treating Jay's injuries could be limited to Chicago P.D., considering P.D.'s winter premiere will presumably pick up shortly after the finale ended, and the Med promo suggests a time jump right off the bat. The impact of Fire and P.D. on Med may have happened off-screen. But that's a big "may."
What's Next For Casey And Brett On Chicago Fire?
The flirtation between Casey and Brett on Chicago Fire seemed all but guaranteed to result in a hookup, but the Season 8 fall finale threw a wrench in their progress as a potential couple. The return of Casey's ex who was, according to Fire showrunner Derek Haas, "the love of his life," and the subsequent Dawsey hookup means that the Casey/Brett situation is more complicated than ever.
Brett had encouraged Casey to spend some time alone with Dawson, and Casey showed no regrets about spending the night with Dawson and even thanked Brett for her input. Derek Haas revealed that Brett's attraction to Casey, such as it was, is "going to be clouded now," even though Dawson won't be around. But how will their interactions change in the second half of Season 8, and what's next for them?
Did Halstead Doom The Intelligence Unit On Chicago P.D.?
Thanks to Halstead thinking with his heart rather than his head, Intelligence may be doomed on Chicago P.D. Marcus West had to take the rap for the murders of those two boys after the new CPD superintendent pressured Intelligence into using a new facial recognition program, without letting them know that it doesn't really work on individuals with darker skin colors. So, an innocent man was picked up, thrown by Halstead into county lockup, and unsurprisingly killed there, and Voight crossed lines to clear Halstead and the CPD.
So, when Halstead went missing, the situation was delicate enough that even the desperate Upton ruled out using every resource to try and rescue him because it would mean exposing what Halstead did and why he did it. That kind of mess that could very well doom the Intelligence Unit, and the footage for the winter premiere suggests that Angela doesn't intend to keep her mouth shut about Halstead's confession. Whether Halstead lives or dies, Intelligence is in trouble.
What Do Natalie's Memories Mean For Manstead And Med?
The long-awaited return of Natalie's memories means Chicago Med can move into new stories for her, but one of those stories already involves heartbreak. The return of her memories -- which Med co-showrunner Andrew Schneider promises "is the resolution of her TBI" -- meant the return of her feelings for Will, and she tried to restart things with him in the fall finale. Sadly for her, TBI Natalie went so hard in trying to get Will to leave her alone that Will actually moved on, and he turned her down.
That said, co-showrunner Diane Frolov did clarify to CinemaBlend that the woman Will went out with a couple episodes ago wasn't actually a serious partner:
But what does this mean for Natalie and Will's working relationship? They can't avoid each other altogether, as they discovered in the first half of the season when Will was in love with a resistant Natalie. Will things be different now that they've switched places, or will the absence of a creepy third party like Philip mean that there will be more awkwardness than desperation? Manstead fans may want to settle in for a rough ride.
Will Dawson Return To Chicago Fire?
Although Chicago Fire was clear in the fall finale that Dawson was only back for a bit and Monica Raymund was only confirmed for one episode, the door was very much left open for her to return. Instead of delivering Dawsey closure to kickstart a Casey/Brett romance, as I suspected/dreaded, Dawson and Casey hooked up, and Dawson left a message for Casey that suggests the saga of Dawsey will never truly end.
Bad news for Casey/Brett shippers, but fantastic for Dawson and Dawsey fans! So what's next? Speaking with CinemaBlend, Fire showrunner Derek Haas weighed in on the possibility of more Dawson:
Derek Haas didn't drop any hard details about another return for Monica Raymund as Gabby Dawson (which could possibly mean another update on Chicago P.D.'s Antonio Dawson), but there are certainly big reasons to hope.
Could Upton And Halstead Still Have A Romantic Future On Chicago P.D.?
Chicago P.D. showrunner Rick Eid teased the possibility of the Upton/Halstead partnership taking a romantic turn, and Jesse Lee Soffer did confirm that Upton and Halstead love each other, but there are significant obstacles. While it's definitely good news that Halstead's "secret ongoing relationship" wasn't a Camila 2.0 situation and Upton's desperation to find Halstead in the fall finale felt a lot deeper than professional concern, there is the little matter of Halstead's potential looming demise to throw a wrench in any romance.
Jesse Lee Soffer did also tease that the fall finale would be a "wake-up call to how much she really cares about him," and seemed optimistic about a continuing slow burn if, of course, Halstead doesn't die. Will the love between Halstead and Upton result in an actual romance, or will they go back to a carefully platonic status quo once Upton doesn't need to tear the city apart to try and rescue him?
Is The End Nigh For April And Ethan On Chicago Med?
April and Ethan were arguably the most stable Med relationship when Season 5 kicked off, and all signs seemingly pointed toward love, marriage, and baby carriage in the future for them. Then, there was conflict that led to an almost-kiss between Crockett Marcel and April, April's discovery that she may never be able to give Ethan a child, a lack of communication leading to a fight before Ethan shipped off for two months, and April sharing a kiss with Crockett.
Crockett did make sure April knew what she was doing before going through with the kiss, and Med co-showrunner Diane Frolov addressed his disrupting role in Season 5:
Whether or not April and Crockett went further than just that one kiss, could it spell the end for April and Ethan? They didn't part well, and Ethan surely wouldn't be thrilled to learn that April had locked lips with Crockett. Then again, April might be wisest to come clean as soon as possible, as secrets tend to come out on Chicago Med at pretty inconvenient times.
One Chicago fans can find out what happens next for Ethan/April/Crockett and more answers to Chicago Med, Chicago Fire, and Chicago P.D. questions when all three series return in 2020 on Wednesday, January 8. As always, Med kicks One Chicago off at 8 p.m. ET, followed by Fire at 9 p.m. ET, and finally P.D. at 10 p.m. ET in the winter TV premiere schedule.
Laura turned a lifelong love of television into a valid reason to write and think about TV on a daily basis. She's not a doctor, lawyer, or detective, but watches a lot of them in primetime. Resident of One Chicago, the galaxy far, far away, and Northeast Ohio. Will not time travel, but will sneak references to The X-Files into daily conversation.
Your Daily Blend of Entertainment News
Thank you for signing up to CinemaBlend. You will receiv