Grey's Anatomy Adds Suits Vet For 'Puzzling' Arc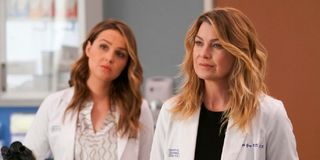 The worlds of Suits and Grey's Anatomy will collide in an upcoming episode of ABC's popular medical drama. Suits vet Sarah Rafferty will join Season 16 of Grey's Anatomy in a recurring role, which involves a multi-episode arc that will have the doctors at Grey Sloan "puzzling" over her case.
Sarah Rafferty will play Suzanne, a woman who comes to Grey Sloan for a routine procedure and winds up being admitted to the hospital. However, her case isn't as open-and-shut as one would hope. Following the procedure, Suzanne will develop mysterious complications that will confuse Chandra Wilson's Miranda Bailey and Giacomo Gianniotti's Andrew DeLuca. It sounds like they'll be working diligently to figure out what's wrong with her. Take a look at Rafferty as Suzanne:
In this image, Suzanne is already bound to the hospital bed and she looks less than thrilled. I can only imagine how displeased she feels about being confined to Grey Sloan after what was meant to be a routine procedure. In a couple of additional photos (via TVLine), Suzanne is shown seemingly surrounded by family, and Doctors Bailey and DeLuca chat with Suzanne.
The Suits vet will first appear in an episode of Grey's Anatomy called "A Hard Pill to Swallow." Little else has been revealed about her role, but it's possible Suzanne could interact with other doctors at Grey Sloan. Let's hope Bailey and DeLuca are able to figure out what's wrong with her before any worst-case scenarios start popping up. Not all stories on Grey's Anatomy end happily, after all.
When the long-running show, which has already celebrated 350 episodes, returns in January, it'll be back to its original 9 p.m. ET time slot on Thursday nights. The change was made to accommodate Station 19's return to ABC for its third season, which will kick off the first hour of a two-episode crossover event.
In fact, the Season 16 fall finale of Grey's Anatomy already set the stage for the crossover after a car went crashing into the bar where several of each show's characters were drinking. The upcoming crossover is being described as a "new level of sexy" and full of "danger," according to Station 19's Jason George. Too bad Sarah Rafferty won't be around to join in the mayhem that will be the crossover, but she'll have her hands full with her own arc later on.
Grey's Anatomy Season 16 returns to ABC on Thursday, January 23 at 9 p.m. ET. Sarah Rafferty's arc will begin the week following the series' midseason return on January 30. For more on what to watch in the new year, be sure to check out our complete 2020 midseason schedule to find out when every new and returning show is set to premiere.
Your Daily Blend of Entertainment News