Real-Life Musician Slams Amazon's Mrs. Maisel Portrayal: 'I Am Not A Cartoon'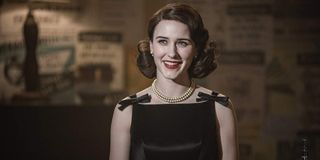 Season 3 of Amazon's The Marvelous Mrs. Maisel introduces Liza Weil's Carole Keen, an experienced and talented bassist who's "someone with tits to talk to" and offers advice to Rachel Brosnahan's Midge Maisel about how to make it in an industry dominated by men. The portrayal, meant as an homage to musician Carol Kaye, is being slammed by the real-life bass player, who wants to make it clear that she is "not a cartoon."
For some background, Carol Kaye is an influential and legendary musician, known as the "First Lady of Bass." She played bass on iconic songs by Frank Sinatra, Sonny & Cher, Elvis Presley and more. Over the course of her career, which spanned two decades between the 1950s through the 1970s, she was the only woman in the group of West Coast studio musicians now referred to as The Wrecking Crew.
Now, Carol Kaye is opening up about the fictitious portrayal of her in The Marvelous Mrs. Maisel, which she believes to be an affront to her life and career. Here's what she had to say about it:
On the show, Carole Keen shares plenty of similarities with the real-life musician. Their names aren't that much different and The Marvelous Mrs. Maisel's Carole even shares the same backstory as Kaye, who was divorced twice and became the primary caretaker of her mother and three children.
The onscreen homage to Carol Kaye's life and career clearly rubbed the bassist the wrong way. Speaking with the New York Post, Kaye expanded further on why the portrayal bothered her so much.
Carol Kaye never makes it clear whether she's watched Season 3 of The Marvelous Mrs. Maisel. Liza Weil, representatives for Amazon, and The Marvelous Mrs. Maisel creators Amy Sherman-Palladino and Daniel Palladino have not yet responded to Kaye's comments.
Stay tuned to CinemaBlend for more on this story. The Marvelous Mrs. Maisel Season 3 is currently available to stream on Amazon Prime Video. For more on what to watch, be sure to check out our 2020 midseason schedule to find out when every new and returning show is premiering.
Your Daily Blend of Entertainment News