Why Zac Efron Was High School Musical Co-Star Ashley Tisdale's Worst On-Screen Kiss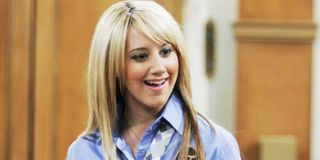 Kissing your co-star is a big part of the job when you're an actor. However, it's safe to say that not all on-screen kisses are good ones and High School Musical star Ashley Tisdale was not shy when it came to revealing why costar Zac Efron ended up being her worst on-screen kiss.
Ashley Tisdale's Sharpay Evans was High School Musical's resident mean girl, but before that, the actress played Maddie Fitzpatrick on the Disney Channel series The Suite Life of Zack & Cody. Zac Efron guest starred in a Season 2 episode of the show where he had to kiss Tisdale's character and she did not enjoy the experience. Here's what the actress had to say about why kissing her former co-star was "just weird":
Talk about awkward! At the time of Zac Efron's guest stint on The Suite Life of Zack & Cody, he and Ashley Tisdale had already done High School Musical together and had known each other for years before shooting their on-screen kiss.
In an Elle magazine segment called "Thirst Trap," where Ashley Tisdale had to choose between answering questions honestly or taking a shot, the actress got candid. She expanded on why it was strange to kiss Zac Efron, explaining that it was their longtime friendship that made their on-screen kiss that much worse.
The scene in question is from The Suite Life of Zack & Cody episode "Odd Couples." In the scene, Zac Efron, who was recently hospitalized after a "life or death" emergency, excitedly pulls Ashley Tisdale in for a heated kiss after an argument. However, the angle is such that viewers couldn't see the actors actually lock lips since Efron's hair is obscuring both of their faces.
Whether or not that was done on purpose following Ashley Tisdale's disgusted reaction is unclear, but it makes the scene that much more amusing in hindsight. It would be interesting down the road to hear Zac Efron's recollection of the experience and whether he also found it weird to kiss his friend in the scene.
Check out Ashley Tisdale's "Thirst Trap" segment below!
Currently, Ashley Tisdale is starring in Netflix's Merry Happy Whatever, as well as in CBS' Carol's Second Act. For more on what to watch, be sure to check out our full 2020 midseason schedule for premiere dates and times.
Your Daily Blend of Entertainment News