Michael B. Jordan And 16 Other Actors You Probably Forgot Were On House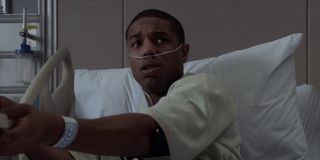 One of my favorite things about House is that, unlike some other popular medical dramas, it seemed to have a clear stopping point in mind. Yet, the Fox series, starring Hugh Laurie in the Golden Globe-winning title role of a cynical, Sherlock Holmesian diagnostics expert, boasts a hefty amount of guest stars after eight seasons. Not to mention the fact that many of these up-and-comers of the time, such as the talented Elle Fanning or Tony winner Lin-Manuel Miranda, are some of the most recognizable names in Hollywood today.
As it tends to be the case when searching for A-listers whose early appearance on a TV show may have slipped your mind, there were many to choose from among those who can say they had the "pleasure" of having their case investigated by Dr. Gregory House and his team. Of course, to save us all some time, we have narrowed down the list to just 17 of our favorite pre-fame House actors, starting with one of the most charismatic and versatile talents of our generation.
Michael B. Jordan (Will Westwood)
While he had already found a steady career with roles on The Wire, Friday Night Lights, and in the film Chronicle, Michael B. Jordan would not become a household name until Ryan Coogler cast him in 2013's Fruitvale Station, followed by the title role in Creed, and in Black Panther as Erik Killmonger. Right in between that star-making transition was a guest spot on the final season of House as a blind man who experiences a strangely high sensitivity to sound right as he is about to propose to his girlfriend (The Big Bang Theory's Margo Harshman).
Jeremy Renner (Jimmy Quidd)
Fellow MCU alum Jeremy Renner was once an underrated Avenger, but fans are already bittersweet over his imminent exit once Hailee Steinfeld's Kate Bishop takes over in the upcoming Disney+ series Hawkeye. Prior to his role in The Hurt Locker (his first of two Oscar-nominated performances), the actor and musician appeared on House's fourth season as a punk rocker whose bouts of coughing up blood may be the least of his problems.
Judy Greer (Morgan West)
If you do not recognize Judy Greer as Scott Lang's ex-wife, Maggie, in Ant-Man or Bryce Dallas Howard's sister in Jurassic World, you may recognize her as the voice of Cheryl Tunt on Archer. However, you might not have initially recognized the star of 2018's Halloween as a House patient convinced that the appearance of a strange cat has sealed her death (something even the skeptical doctor almost begins to believe), on the drama's fifth season.
Randall Park (Brad)
Judy Greer's Ant-Man and the Wasp co-star Randall Park has a much bigger role on the Disney+ series WandaVision, in which he reprises his MCU character, FBI agent Jimmy Woo. One of the earliest appearances of the comedian (otherwise known from ABC's Fresh Off the Boat, as a marine biologist in Aquaman, and as Asian Jim on The Office) was on Season 2 of House, as a man who attempted his own circumcision.
Yvette Nicole Brown (Ellen Stambler)
Speaking of House characters making big mistakes, Yvette Nicole Brown starred in another Season 2 episode as an organ procurement agency employee who unwittingly becomes the bearer of bad news for a man previously unaware of his wife's death. At this time, the actress was already well-known to younger viewers as Helen on Drake & Josh before becoming one of many Community regulars to make an MCU cameo later on.
Evan Peters (Oliver)
Another Marvel movie scene-stealer (but not in the MCU) is Evan Peters, whose first action sequence as Quicksilver in X-Men: Days of Future Past is cited as one of the most dazzling in the entire franchise. Before breaking out on American Horror Story, the then 21-year-old played a teenager taken hostage by a man desperate to receive House's diagnosis in Season 5.
Lin-Manuel Miranda (Juan "Alvie" Alvarez)
Composing and starring in the Tony winner In the Heights already made Lin-Manuel Miranda a Broadway star, when he brought his rap skills to the two-hour Season 6 premiere of House as the disgraced doctor's bipolar roommate at Mayfield Psychiatric hospital. Today, the multi-talented actor / writer is internationally known for creating the blockbuster musical Hamilton, and his recent starring role on HBO's series adaptation of the His Dark Materials book series.
Skylar Astin (Derrick)
Another actor who started out on Broadway is Zoey's Extraordinary Playlist star Skylar Astin, who broke out into the mainstream in 2012's Pitch Perfect as Anna Kendrick's pop culture-obsessed love interest. That same year, he appeared on Season 8 of House as a college cheerleader initially brought into Princeton–Plainsboro for nosebleeds and dizziness, but his case becomes more serious when he claims to hear voices that are not there.
Breckin Meyer (Brandon)
Before playing an artist somehow seeing the world as a Picasso painting on Season 5 of House, Breckin Meyer was best known as Travis in Clueless, a college student desperate to retrieve his own mistakenly sent sex tape in Road Trip, and Garfield's owner, Jon, in the critically reviled live action film with Bill Murray as the lazy cat. Since, the Emmy-nominated Robert Chicken producer starred as one half of the titular attorney duo from Franklin & Bash and more recently appeared in Unpregnant, an HBO Max exclusive dramedy feature.
Jurnee Smollett (Tracy)
Speaking of HBO, working on the network's series adaptation of Lovecraft Country and playing Black Canary in DC flick Birds of Prey brought Jurnee Smollet further into the mainstream than her breakout childhood role on Full House did. In a minuscule coincidence, House, on which she played a married assault victim with massive breathing problems, is the third of five medical dramas she has guest starred on, including (unsurprisingly) ER.
Elle Fanning (Stella Dalton)
ER actually marked the acting debut of Dakota Fanning, but instead of following in her sister's footsteps, the equally talented Elle Fanning landed a spot on a different medical drama, House. The then 8-year-old actress appeared on the series' second season as the daughter of a businesswoman (Julie Warner) suffering from uncontrollable muscle spasms.
Mike Moh (Waiter)
Elle Fanning's sister would also grow up to appear in Quentin Tarantino's dark, Oscar-winning love letter to cinema's Golden Age, Once Upon a Time… in Hollywood, which also features Mike Moh, in a memorable performance as Bruce Lee during his years on The Green Hornet. One of the former stuntman's first legitimate acting gigs was as an unnamed restaurant server on Season 7 of House.
Taraji P. Henson (Moira)
Mike Moh would later score a recurring role on Fox's music industry drama Empire, which stars the incomparable Taraji P. Henson in the Golden Globe-winning role of Cookie. The actress also earned an Oscar nomination in 2008 for The Curious Case of Benjamin Button, but three years earlier, she appeared on Season 2 of House as the ambitious agent of a star cyclist, in a plot loosely inspired by early allegations of Lance Armstrong's doping scandal.
Jimmi Simpson (Daniel Bresson)
Another notable David Fincher movie veteran is Jimmi Simpson, who appeared as a grown-up survivor of Zodiac in the director's 2007 film about the search for the elusive serial killer. Hidden within the Westworld star's many memorable TV guest appearances (such as Black Mirror's "U.S.S. Callister" episode) is a spot on House's fifth season as a priest whose admission to Princeton-Plainsboro after claiming to see Jesus eventually leads to suspicions of sexual abuse.
Felicia Day (Apple)
Also famous for a career full of notable guest spots and recurring roles is Felicia Day, who is best known as Penny in Dr. Horrible's Sing-Along Blog, the villainous Kinga Forrester on Netflix's Mystery Science Theater 3000 reboot, and from Supernatural as Charlie Bradbury (and her evil doppelgänger). The Geek Goddess paid reality a painful visit on Season 5 of House as a woman who becomes the latest (and sole surviving member) of many who fell ill years after receiving an organ donation from the same man.
Blake Anderson (Ethan)
Netflix has been the home of many recent projects involving Blake Anderson, who is best known today as the co-creator and co-star of Workaholics, which ran for seven seasons on Comedy Central. Right around the time that gross-out sitcom was taking off, the comedian made an appearance on House as a patient who suspects his grayed fingertips are frostbitten, until Dr. House rightfully assumes this to be proof the young man has been stealing from the cash register from work.
Noah Segan (Sir William)
Speaking of criminal activity, Noah Segan has played his fair share of bad guys in nearly everything Rian Johnson has directed (save Trooper Wagner in Knives Out and his X-wing pilot role in Star Wars: The Last Jedi). Among his notable TV guest spots (including a cameo as a firefighter in the Johnson-directed Breaking Bad episode "Ozymandias") is a Season 6 appearance on House as a Renaissance Fair performer admitted after suffering a painful defeat in a jousting competition.
What do you think? Did House have a magic touch when it comes to treating potential future A-listers? Let us know in the comments and be sure to check back for additional information and updates on this popular medical drama, as well as even more inside looks into what your favorite celebrities were up to before they were stars, here on CinemaBlend.