Arrow Stars Invite Margot Robbie To Birds Of Prey TV Spinoff, Which Is Possible After Crisis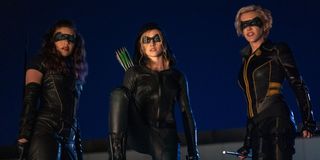 Arrow's first post-"Crisis on Infinite Earths" episode, aptly titled "Green Arrow and the Canaries," served as a backdoor pilot to a potential spinoff that would follow the 2040 adventures of Mia Smoak, Dinah Drake, and Earth-2's Laurel Lance. It was hard not to get a Birds of Prey vibe while watching the episode, and it turns out Arrow stars Katie Cassidy and Juliana Harkavy wouldn't be opposed to that team-up. The pair have invited Harley Quinn actress Margot Robbie and the Birds of Prey cast for some crossover action, which is technically possible now after "Crisis."
Before the Arrow-verse's five-episode crossover, it was thought impossible for characters from DC Comics' movies and TV shows to cross paths. That changed after Ezra Miller appeared as DCEU's Barry Allen, interacting with Grant Gustin's Barry during "Crisis on Infinite Earths." So after that set-up, could the Birds of Prey actors appear in Arrow's potential spinoff? Katie Cassidy would definitely be down to share the screen with Margot Robbie. Here's what she had to say:
I'd be fine with that, too. The multiverse may have collapsed, but the finale for "Crisis on Infinite Earths" confirmed there are a few worlds left – which harbor Stargirl and DC Universe's Titans and Doom Patrol, for instance – that didn't merge into the newly minted Earth-Prime. Depending on where Harley Quinn and the Birds are currently stationed, an inter-dimensional jaunt might not be the craziest idea.
Speaking with ET, Arrow's Juliana Harkavy also expressed excitement at the possibility of the Birds of Prey cast making a cameo in the spinoff (if it gets picked up to series, that is). The film stars Jurnee Smollet-Bell as the Black Canary, and Harkavy likes the idea of there being another version of her character. In her words:
It's fitting because "Green Arrow and the Canaries" already hinted at a network of Canaries and the cameo-heavy "Crisis on Infinite Earths" certainly left the door open for more movie characters to appear in the Arrow-verse. The possibilities are seemingly endless now, so bring on the Nolan-verse.
Arrow's series finale, which brings back Emily Bett Rickards' Felicity Smoak and other familiar faces, will air on Tuesday, January 28 at 9 p.m. ET and will be preceded by an hour-long special presentation at 8 p.m. ET on The CW. For more on what to watch after Arrow is over, be sure to check out our 2020 midseason schedule for premiere dates and times.
Your Daily Blend of Entertainment News
Thank you for signing up to CinemaBlend. You will receive a verification email shortly.
There was a problem. Please refresh the page and try again.