Netflix's Locke And Key Has Three Fun Cameos You May Have Missed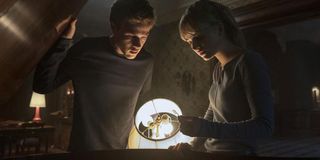 There's going to be some minor spoilers throughout this article. So if you aren't up on Netflix's graphic-novel-turned-Carlton-Cuse series, don't say we didn't warn ya!
Netflix has already pushed out a lot of cool content out in 2020. (Case in point: It's the To All The Boys I've Love Before sequel week people!) One of the most highly anticipated new programs has been Locke & Key, based on the graphic novel series of the same name. If you've started watching Locke & Key or just finished you maybe noticed a few cool cameos the Netflix series has included.
Along with sporting a really cool and frequently young-ish cast, the show peppers in three really notable cameos for fans of horror and fans of Locke & Key. The first is bringing in the real Tom Savini and the second and third cameos introduce comics creators Joe Hill and Gabriel Rodriguez into the TV version of the world they created.
Tom Savini is important to Locke & Key Season 1 from early on when Kinsey finds her "people" in the Savini Squad at here new school. They introduce her to the stylish gore of their idol Tom Savini, who is notable for a wide range of horror movies from Dawn of the Dead to Friday the 13th and Night of the Living Dead. Yet, it's when Savini actually enters the story
Who Does Tom Savini Play In Locke & Key?
Tom Savini is not usually one to turn down a cameo, and Locke & Key found a role for the actor, effects man and more as the owner of a hardware store in Matheson, Massachusetts. Nina and Bode visit the hardware store to pick up some supplies and Bode gets to talking with the owner about old keys.
It's a key-oriented conversation that ends with the store owner giving Bode a jar of non-magical junk keys, but during it Bode does learn that the magical key he's shown the owner is very old and very interesting – "maybe 17th century" as it were. Bode nearly gets the head key into the back of the hardware store owner's neck at one point, but it foiled when Savini's characters turns back around as well. It's a fun cameo, albeit not super important to the plot.
Who Joe Hill And Gabriel Rodriguez Play In Locke & Key Season 1
They are sort of blink-and-you'll-miss-them cameos, but Joe Hill and Gabriel Rodriguez both pop up in the Season 1 finale for Locke & Key. The graphic novelists show up on the scene as paramedics and even get speaking lines before they ultimately take Rufus to the hospital. The two end up cutting a conversation between Rufus and Bode a little short.
In real life, Joe Hill and Tom Savini have also worked together on "By The Silver Water of Lake Champlain," which was a part of Creepshow's first season on Shudder, so that's a nice little connection as well.
We don't know if Locke & Key will be back for Season 2 yet, but cameos such as these add another layer to the series for the really in-depth fans. But if you missed them, no worries; that's why the internet is there to do a deep dive for you. In the meantime, if you have finished the series and want to delve much deeper into spoilers, check out our ending feature.
Your Daily Blend of Entertainment News
Reality TV fan with a pinch of Disney fairy dust thrown in. Theme park junkie. If you've created a rom-com I've probably watched it.