5 Mandalorian Star Wars Spin-Off TV Shows We'd Love To See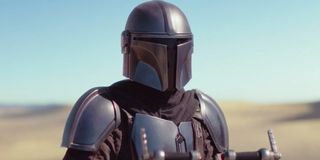 WARNING: The following article may contain spoilers to The Mandalorian**. We recommend catching yourself up, if you are not already, before you proceed.**
In just eight episodes, Jon Favreau's The Mandalorian did more than give fans the epic, live action Star Wars spin-off series they had been waiting for. It expanded on the world within the galaxy far, far away in ways more fascinating than other films or TV shows related to the saga had done before, with fresh, multi-dimensional characters and storylines that explore previously unfamiliar territory.
In addition to the announcement of the second season renewal of The Mandalorian, returning to Disney+ in October 2020, Disney CEO Bob Iger has teased the possibility of developing a spin-off to the acclaimed space western starring Pedro Pascal as the titular bounty hunter. No hints of what, or who, said hypothetical series would be centered around followed, but with anticipation still brimming for upcoming TV shows about Ewan McGregor's Obi-Wan Kenobi and Cassian Andor from Rogue One, it is clear that fans are eager to explore the world of Star Wars even deeper.
While we wait for confirmation on what's ahead, we couldn't help but dream up a list of characters we would like to see branch off from The Mandalorian. With so much opportunity for spin-offs, we came up with five.
The Adventures Of Greef Karga
It turns out that you do not need lightsaber battles to make a Star Wars property exciting, because bounty hunting does the trick pretty well. Thus, Greef Karga, the on-and-off again trusted ally of Pedro Pascal's central character in The Mandalorian, played by '80s action movie veteran Carl Weathers, would be a great subject for a prequel series.
The spin-off centered arond Greef could chronicle his rise from a disgraced imperial magistrate to an agent of the Bounty Hunter's Guild after the collapse of Galactic Empire, following him on a string of jobs, from his inaugural hunt that earned him a spot in the Guild to his promotion to assigning fellow hunters their next bounty, which could lead to a Mando cameo. Considering The Mandalorian takes place just five years after the fall of the Empire, recasting Carl Weathers would be unnecessary, placing his solo series within the "aging badass" category, which would be a nice touch for a Star Wars TV show.
Cara Dune: From Shock Trooper To Mercenary
Speaking of badass, The Mandalorian may be the title character's show, but the titleholder of Most Badass Character was up for debate when Carasynthia "Cara" Dune made her epic entrance. After her introductory quarrel with Mando, the Alderaanian, played by MMA star-turned-actress Gina Carano, reveals her background as a shock trooper for the Alliance to Restore the Republic during the Galactic Civil War before taking up a career as a mercenary after she saw her responsibilities downgraded to "peacekeeper" following the Battle of Endor.
Seeing Cara Dune (still played by Gina Carano, I would hope) in her war hero glory and hunting down former Imperial officials is certainly enough to sign me up for a spin-off, but I want to see more than just that in her series. I want to see her full evolution into one of the galaxy's fiercest warriors, right from the beginning of her training from combat. Cara is the kind of Star Wars character with the right kind of depth, magnetism, and mystery that demands a prequel.
Kuiil Lends A Helping Hand To More Distant Travelers
The Mandalorian saw a tragic ending to one of its most generous characters, Kuiil, an Ugnaught moisture farmer, voiced by Nick Nolte and physically performed with a combination of costuming and motion capture by stuntwoman Misty Rosas. He died honorably, assisting Mando in protecting The Child better known by fans as "Baby Yoda" from Imperial capture, after having already helped him repair his tattered ship days earlier. Always willing to offer a helping hand (for a price, of course), I wonder what other desperate travelers enlisted his services.
If he had a prequel series of his own, I imagine it would be a quasi-anthology series, of which he is the sole recurring character of, following a new character, or characters, in each episode who find themselves on Arvala 7 with a problem that Kuiil, using the skills he has acquired from being an indentured servant to the Empire, can help solve if they meet his demands. Being one of the more noble characters in the Star Wars universe, as far as I am concerned, I believe Kuiil deserves more attention and this would be an honorable tribute. I have spoken.
Peli Motto's Funny Life At Bay three-five
After following its incessantly humorless hero for four chapters, The Mandalorian implemented a little comic relief in the form of Peli Motto, the manager of Bay three-five at the Mos Eisley spaceport on Tatooine, played by comedian Amy Sedaris. She repairs Mando's ship, at his request, without the help of her droid employees, who hilariously cower in presence, but offers to watch Baby Yoda on her own accord in an episode so joyously funny when Peli is on screen, it is shame her first episode was also her last. Therefore, why not give her an equally humorous spin-off?
Picture this: a series following the day-to-day responsibilities and silly interplay of Peli Motto and her droids at Bay three-five through a comical lens. With the fusion of comedy with science fiction proving successful for shows like The Orville or Rick and Morty, perhaps it is about time Star Wars got its own sitcom.
Moff Gideon's Rise To Power
It was not until the final moments of The Mandalorian's penultimate episode when we met the man whose request put Mando on the hunt for Baby Yoda in the first place: Gideon (Giancarlo Esposito), a moff who leads his own remnant of the disbanded Empire, putting him in control of an army of stormtroopers of differing variations. Given the series' twist ending, we have certainly not seen the last of the ruthless antagonist, but there is so much to learn about this character that only a prequel could satisfy.
But I cannot be the only fan who wishes to witness Moff Gideon's rise in power from an Imperial officer to the marshal of his own galactic territory. Not to mention, I am very curious as to how the hell he got ahold of a Darksaber, a weapon historically associated with the Mandalorian House of Vizsla? Of course, it could be the Breaking Bad fan in me talking, but whenever Giancarlo Esposito becomes part of something, I want to see more of it.
If the teasing of a spin-off to The Mandalorian becomes a reality, I would hope that Lucasfilm would take any of these concepts in consideration. Be sure to check back for more updates on the upcoming second season of the popular Star Wars TV show, and other projects in development for Disney+, here at CinemaBlend.
Jason has been writing since he was able to pick up a washable marker, with which he wrote his debut illustrated children's story, later transitioning to a short-lived comic book series and (very) amateur filmmaking before finally settling on pursuing a career in writing about movies in lieu of making them. Look for his name in just about any article related to Batman.
Your Daily Blend of Entertainment News
Thank you for signing up to CinemaBlend. You will receive a verification email shortly.
There was a problem. Please refresh the page and try again.