Yes! The Mighty Ducks TV Show Is Bringing Emilio Estevez Back, And He's Pumped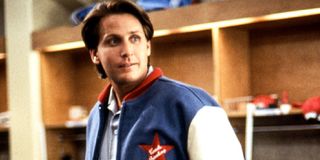 It's been over 25 years since the release of the beloved Disney movie The Mighty Ducks, but that love is still very much alive. It was announced back in January 2018 that The Mighty Ducks TV show is in the works and the first thing on our minds even then was whether or not the inimitable Emilio Estevez would reprise his iconic role. Wishes do come true, because Estevez will indeed be back to play Coach Bombay in the Disney+ original, and he's pumped!
The news comes not long after Gilmore Girls alum Lauren Graham was cast as Alex, who takes it upon herself to start a new team after her son is mercilessly cut from the Ducks. With the main plot set, Emilio Estevez's Coach Bombay will be helping the new team discover what it means to play hockey for the love of the game. Estevez is just as excited to return as fans of The Mighty Ducks are. Here's what he had to say about his comeback:
This news is the height of '90s nostalgia! Emilio Estevez originally played Gordon Bombay in all three of The Mighty Ducks films, which included sequels D2: The Mighty Ducks and...D3: The Mighty Ducks. (OK, so the film titles weren't very creative at the time.) The actor will also serve as executive producer on the TV series, which is being developed by Disney Signature Studios. Original creator Steve Brill will be back to executive produce the series, as well.
In the original film, prior to becoming the coach of the Ducks, Emilio Estevez's character was a successful, but arrogant, attorney. However, after being arrested for drunk driving, Bombay is sentenced to hundreds of hours of community service coaching the local hockey team.
The Mighty Ducks series picks back up in present day Minnesota. However, the beloved Ducks are no longer the underdogs they once were. With their eyes set on the competitive nature of the sport, Emilio Estevez's Bombay will be focused on reminding the youth how important sports are regardless of whether your team wins or not. Now that we have confirmation that Estevez will be back, I wonder what the odds are that the series will bring back Joshua Jackson as Charlie. Crossing my fingers!
The Mighty Ducks series will consist of ten episodes and is set to premiere on Disney+ (opens in new tab) later this year. Stay tuned to CinemaBlend for updates as they become available. For more on what to watch in the interim, be sure to check out our 2020 midseason schedule for premiere dates and times.
Your Daily Blend of Entertainment News
Thank you for signing up to CinemaBlend. You will receive a verification email shortly.
There was a problem. Please refresh the page and try again.