Did Outlander Season 5 Premiere Say Goodbye To Murtagh Because of The Books?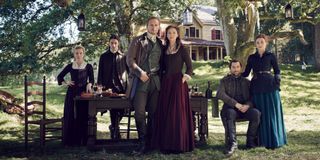 (Image credit: Starz)
Spoilers ahead for the Season 5 premiere of Outlander on Starz, called "The Fiery Cross," and for the books of Diana Gabaldon's Outlander saga.
The Outlander Droughtlander is officially over, and the Fraser family is back for the fifth season of adventures on Starz. While much of the Season 5 premiere was happy thanks to Roger and Brianna's wedding going off with as few hitches as possible on a show like Outlander, there was what felt an awful lot like a long-term goodbye. In fact, if Season 5 follows the books more than Season 4 did in certain ways, this may have been a goodbye forever. Was "The Fiery Cross" the last episode for Duncan LaCroix's Murtagh Fitzgibbons, at least as a free man?
As book readers (and likely show fans by this point) already know, Murtagh died on the page way back in the Battle of Culloden, with Jamie confirming his beloved godfafther's death in the third novel when thinking back on the brutal conflict. So, no Murtagh in Ardsmuir prison, no Murtagh being shipped off to the American colonies, and definitely no Murtagh becoming a Wilmington blacksmith who moonlights as the leader of the Regulator movement that makes the local British government very, very angry.
At first, Murtagh being alive in the series seemed like a potentially minor change that was great for show fans who loved Murtagh but also book loyalists who wanted the show to stay as faithful as possible. Even when he was back in the thick of the action in Season 4, he might have been more of a way for the show to reveal Claire's internal dialogue than a game-changer. Then Season 4 ended with Governor Tryon ordering Jamie to raise a militia to hunt down the Regulators, specifically naming Murtagh as a target.
Murtagh was at the center of the cliffhanger heading into another Droughtlander. Basically, he was a big deal, and it was hard to imagine the show sticking to the next few books with Murtagh in the mix, but surely Jamie wouldn't kill Murtagh, right? Well, the fact that the Season 5 premiere is called "The Fiery Cross," which also happens to be the name of the Murtagh-free fifth book in Diana Gabaldon's saga, may be a sign that the series is getting back on track with the events of the novels.
The Season 5 premiere saw the departure of Murtagh, who was unable to attend Roger and Bree's wedding and was basically living in a forest shack, although that didn't stop Jocasta from dropping by for a tryst. Tryon did attend the wedding, and he firmly told Jamie that Jamie couldn't beat around the bush when it comes to his task of hunting the Regulators anymore. Tryon expects to have a body to display as proof of what happens to opposition of the British government on this side of the pond.
Tryon none-too-subtly threatened to withdraw Jamie's land grant and uproot everybody at Fraser's Ridge if Jamie didn't comply. Stuck in a situation with no good solution, Jamie went to see Murtagh. The episode, which opened with a flashback of a much younger Murtagh comforting Jamie after his mother's death and swearing an oath to stay by his side forever, then saw a touching conversation with the two men affirming that they could never resent each other for their actions, but it wasn't safe for Murtagh to remain.
Jamie tearfully released his godfather from his oath, then told him to leave and "please be hard to find." Murtagh straightened Jamie's coat one last time before walking away, while Jamie tried very hard and nearly succeeded in not weeping. They parted, possibly forever, without even a hug. I'm not crying, you're crying! Not all the surprises in Season 5 might be pleasant.
Now, this is of course not the first time Murtagh has exited Outlander seemingly forever. He seemed dead and gone in Season 3 before he and Jamie unexpectedly reunited at Ardsmuir, and he seemed permanently out of the action after being shipped across the Atlantic to the American colonies. It's entirely possible that Murtagh will once again emerge from the figurative woodwork at the opportune moment to lend a hand.
But has the time of Murtagh Fitzgibbons passed? Yes, certainly, in Diana Gabaldon's books, and even the Regulator movement on the show will become more or less moot in the coming years on Outlander thanks to the American Revolution that will see a whole lot more than a band of Wilmington Scots rising up against the Brits. If Murtagh can just follow Jamie's one last request and be very hard to find, then Jamie won't have to hunt him down, and Murtagh will live. Just... off-screen.
Jamie's relationship with Roger will seemingly receive a great deal of focus in Season 5, so perhaps there's simply not room for good old Murtagh in the narrative. A more devastating possibility and even likelihood is that even Murtagh can't avoid a militia supplemented by British forces indefinitely, especially when he hasn't given up on the Regulator cause.
Jamie could well have no choice but to catch him if they cross paths with redcoats at Jamie's back, and Tryon was very clear about wanting an example made of Murtagh. Neither Jamie nor Murtagh are out of danger just yet, I'm afraid. We can all only speculate at this point, however. With Murtagh long-dead in the books and the end of Season 4 meaning Season 5 starting pretty differently than the fifth book, anything can happen on the Murtagh front.
That said, Jamie's touching farewell with his godfather in "The Fiery Cross" had all the makings of a last goodbye before a permanent parting, and even Jocasta revealed that she's seriously considering marrying another man. Murtagh more or less lifts out of the narrative at this point. The devastating loss many of us were expecting to come in Season 3 seems likely to finally come in Season 5.
See what happens next for the Frasers with new episodes of Outlander airing Sundays at 8 p.m. ET on Starz (opens in new tab). Fans shouldn't count on the rest of the fifth season episodes releasing early, as the premiere did as a Valentine's Day gift from Outlander. For some viewing options to watch between new Outlander episodes (and potentially keep you busy during the much-longer Droughtlander that's on the way), check out our 2020 winter and spring premiere schedule.
Your Daily Blend of Entertainment News
Laura turned a lifelong love of television into a valid reason to write and think about TV on a daily basis. She's not a doctor, lawyer, or detective, but watches a lot of them in primetime. Resident of One Chicago, the galaxy far, far away, and Northeast Ohio. Will not time travel, but will sneak references to The X-Files into daily conversation.
Your Daily Blend of Entertainment News
Thank you for signing up to CinemaBlend. You will receive a verification email shortly.
There was a problem. Please refresh the page and try again.