How Outlander's Season 4 Finale Already Set Up A Fast-Paced Season 5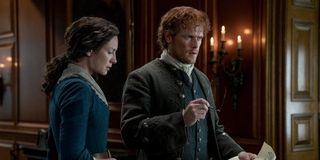 Spoilers ahead for the Season 4 finale of Outlander, called "Man of Worth."
After 13 episodes of time travel twists, romantic reunions, heartbreaking turns, and one major character departure, Outlander Season 4 has come to an end. The finale saw Claire, Jamie, and Young Ian finally track down Roger, while Brianna entered the final stage of her pregnancy back at River Run. It ended on as much of a happily-ever-after as we can ever hope for when it comes to Outlander, but there was also a cliffhanger that sets the stage for a fast-paced Season 5.
How It Happened: The Frasers made it to the Mohawk village in New York to try and trade for Roger, with Young Ian's heretofore unknown fluency in their language coming in quite handy. Attempts at trade went sideways when the Mohawk spotted the opal Claire had retrieved from the Native American time-traveler's skull earlier in the season, as the man had meaning to the Mohawk. Eventually, however, the Frasers made their deal with the Mohawk; it just wasn't one that Jamie intended.
Jamie offered to trade places with Roger, sending the man she loved back to Brianna. He asked Ian to negotiate the deal; Ian, feeling guilty for his part in handing Roger over to the Mohawk, instead used his knowledge of the Mohawk language to trade himself for Roger. Giving his word of honor to the Native Americans, Ian told his uncle that he would not try to escape and would instead build his life among the Mohawk. Claire and Jamie got Roger back, but they lost Young Ian in the process. Who's going to tell Jenny?
Meanwhile, back at River Run, Murtagh arrived to check in on Brianna, where he was alarmed to learn from Jocasta that Bree was "engaged" to Lord John Grey. Bree assured him that it was all for show while she awaited Roger's return, and Murtagh seized his opportunity to rekindle his friendship with Jocasta, despite the fact that the redcoats were sure to be after him after his explosive escape from jail in Wilmington.
Well, Bree gave birth to a healthy baby boy, but she was devastated when Claire and Jamie returned without Roger, who needed time to consider whether he could be with Brianna despite everything, including the possibility that her child was actually Stephen Bonnet's rather than his own. He did finally show up, looking precisely as you'd expect of a man who had been beaten, forced to walk hundreds of miles, beaten again, enslaved, and then eventually engaged in fisticuffs with his father-in-law.
Still, they had a reunion so romantic that it bordered on cliche as they ran into each other's embrace. Happily-ever-after, right?
Not so much. Just as Bree and Roger were getting reacquainted with each other on the lawn of River Run, a bunch of redcoats rode up on horseback, leading everybody to believe they'd figured out Murtagh's location. Jocasta, who had started a romantic relationship with Murtagh in a twist that I certainly didn't see coming after she berated him, claimed she never liked him, and flung whiskey in his face, tried to send him to the slave quarters to be hidden.
As it turns out, however, the redcoats weren't there for Murtagh. Well, not exactly, anyway. They delivered a letter to Jamie from Governor Tryon, informing him that he was being called to duty, as Claire had feared when Jamie accepted the land grant from Tryon early in the season.The summons demanded that Jamie raise a militia to fight the Regulators, with their first order of business being tracking down and killing Murtagh. Awk-ward!
What It Means: This is hardly the first time that Outlander has ended a season on a cliffhanger, but unlike the finales of Seasons 2 and 3, this cliffhanger doesn't lend itself to a logical time jump. The finale ending sets up a premiere beginning immediately or shortly after Jamie got the message from Tryon. While I won't say that this is definitely, totally, 100% going to be what happens, I would be surprised if there was a significant time jump into Season 5, if one at all. The pace should be quick right off the bat.
Admittedly, one of my chief issues with Outlander Season 4 was how it raced through the source material, so that the huge emotional beats from the Drums of Autumn novel didn't feel as impactful as they should have. A fast-paced Season 5 would normally make me a little bit anxious about what's in store… but the end of Season 4 was enough of a divergence from the end of Drums of Autumn that I think the show might benefit from going off-book moving forward.
Who would have guessed back in Season 3 when it was revealed that Murtagh was not dead as he was by that point in the books that he would be such a key part of the plot in Season 4 and (presumably) Season 5? Murtagh could be the variable that keeps Outlander fresh and engaging no matter what the pace next season. Besides, if Outlander doesn't drag out the first episodes of Season 5, there would be no need to rush later episodes to pack plot points in.
Now, I'm going to get into some relatively minor book spoilers for the fifth book in Diana Gabaldon's saga, called The Fiery Cross. You may want to skip the next few paragraphs if you don't want any book details from The Fiery Cross. While the first chunk of The Fiery Cross does introduce the plot of Jamie needing to muster a militia to go after the Regulators, the book also takes a looooooooooooooong time to get to the point of Jamie feeling any urgent need to muster those men.
In the paperback version of The Fiery Cross, the first 200 pages or so are spent at the Gathering at Mount Helicon, as the extended Fraser family deals with all kinds of crises, ranging from minor to major. There are baptisms that need to happen, weddings scheduled to go down, political twists, potential betrayals, ill-advised forest hookups, and a lot of scenes of crying babies with nursing mothers.
After everything has been settled, the babies have been baptized, the "I do" declarations have been exchanged, and as many crises as possible have been averted, then and only then does the story move into the militia mustering. Now, many of these scenes worked to flesh out the characters and world of The Fiery Cross, but what made sense on page probably would not have been terribly entertaining on the small screen, especially if Outlander wanted to pack most of it in.
The ending of Season 4 indicates that Outlander is skipping the Gathering altogether. If Outlander addresses the need for Brianna and Roger to have a wedding more official than their handfasting and their son -- who has not yet been named on the show -- to be baptized, there will likely be less dramatic fanfare surrounding the events. If Outlander does indeed omit those 200 pages of Gathering shenanigans, the pace of Season 5 will already be faster than The Fiery Cross, and I can't say that would be a bad thing. End book spoilers.
Unfortunately, it will be some time before we find out what precisely happens next on Outlander. I don't imagine Jamie could possibly bring himself to kill or arrest his beloved godfather, but I can't necessarily say the same for members of the militia that he gathers. Not everybody will feel natural loyalty to Murtagh, especially if protecting him means danger for their families. At least the new romance between Murtagh and Jocasta presumably means that he can count on her support!
Outlander has already been renewed for another two seasons, so no need to worry that this latest cliffhanger will go unresolved. For some viewing options while we wait for Season 5 to hit Starz, take a look at our midseason TV premiere schedule.
Your Daily Blend of Entertainment News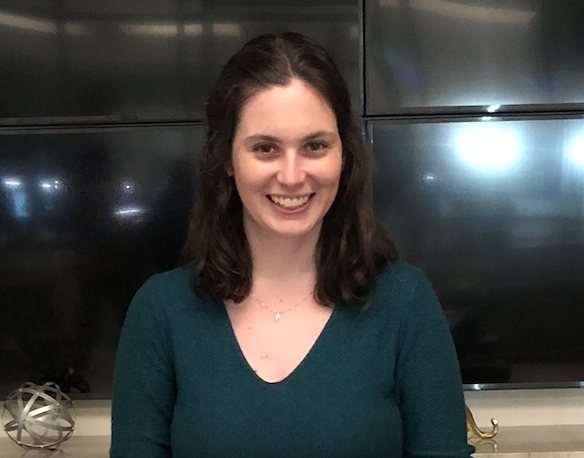 Laura turned a lifelong love of television into a valid reason to write and think about TV on a daily basis. She's not a doctor, lawyer, or detective, but watches a lot of them in primetime. Resident of One Chicago, the galaxy far, far away, and Northeast Ohio. Will not time travel and can cite multiple TV shows to explain why. She does, however, want to believe that she can sneak references to The X-Files into daily conversation (and author bios).