OK, The Masked Singer's Taco Is Not That Popular Guess, So Who Is He?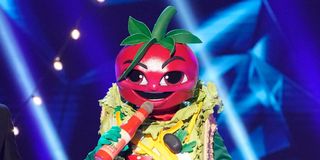 (Image credit: Fox)
The third season of The Masked Singer on Fox has already gotten pretty wild, and it's barely even into the second group of mystery performers. Naturally, fans are out in full force to guess which celebs are under the masks, and many thought they had the Taco all figured out: Bob Saget. Known for his roles on Fuller House, America's Funniest Home Videos, and How I Met Your Mother, Saget seemed to fit the clue packages... until Saget himself spoke out to debunk the Taco theories.
Bob Saget apparently heard all about people theorizing that he's the man beneath the shell and ingredients as The Masked Singer's Taco, probably on social media. Why? Because the actor shared his response to the rumors on Twitter, posting this:
Interestingly, Bob Saget has since deleted the tweet, but the contents were saved by Digital Spy before his message could go down forever. On the one hand, Saget taking down the tweet could be seen as suspicious, and perhaps even the actor going into overdrive to cover that he really is on The Masked Singer.
On the other (and probably more likely) hand, Bob Saget may have just realized/been told that it shouldn't remain up during The Masked Singer Season 3, although it's worth noting his tweet linking to a French article about his tweet remains on his page.
Bob Saget isn't the first popular candidate for the third season of The Masked Singer to debunk theories, as Backstreet Boys A.J. McLean and Nick Carter both revealed that they were not doubling as the Turtle, although Carter shared that he had been approached to perform under that particular mask.
So, if Bob Saget isn't the Taco on The Masked Singer Season 3, who is? The judges guessed Regis Philbin and Martin Short as the Taco singer, and Tim Allen and Tom Bergeron have emerged as popular guesses as well. Personally, I think the Taco is a little too spry and energetic to be Regis Philbin, and this isn't the first time Martin Short has been named as somebody beneath a mask, so I'm hesitant to go all-in on him.
Tim Allen stars on a Fox show and seems to fit some of the Taco's clues, so he's not an outlandish guess as somebody singing on another hit Fox series. CinemaBlend's Mick Joest is leaning toward Tom Bergeron, who followed in Bob Saget's footsteps as host of America's Funniest Home Videos and currently hosts Dancing with the Stars on ABC.
The home videos in Taco's clue package do seem to hint at somebody from America's Funniest Home Videos, and if we can rule out Bob Saget, doesn't that make Tom Bergeron a likely suspect? If you're still undecided about who you think is behind the Taco mask, check out his latest Masked Singer performance:
Is that indeed Tom Bergeron? Or somebody who hasn't been guessed yet? Or Bob Saget, who tried to take some of the heat off by telling Twitter he's not the Taco? Only time will tell, and if Taco continues impressing the judges and audiences, he may not be unmasked for quite some time. Of course, talent isn't always the determining factor when it comes to The Masked Singer, so anything can happen.
Find out what's in store with new episodes of The Masked Singer airing Wednesdays at 8 p.m. ET on Fox.
Resident of One Chicago, Bachelor Nation, and Cleveland. Has opinions about crossovers, Star Wars, and superheroes. Will not time travel.
Your Daily Blend of Entertainment News
Thank you for signing up to CinemaBlend. You will receive a verification email shortly.
There was a problem. Please refresh the page and try again.