Is The Flash Finally Bringing Back Reverse-Flash In Season 6 Or What?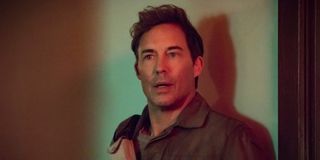 (Image credit: The CW)
Spoilers ahead for the February 25 episode of The Flash Season 6, called "Grodd Friended Me."
The Flash aired a doozy of an episode with "Grodd Friended Me," which introduced a reformed post-Crisis Gorilla Grodd, revealed Eva is the real Mirror Master and Imposter Iris is her double, and showed off Danielle Panabaker's latest impressive baggy shirt, but somehow none of those was the biggest bombshell of the hour. Nash Wells spent the episode continuing to hallucinate, this time seeing versions of Sherloque. The twist came when Sherloque's eyes glowed red, the Reverse-Flash sound effect started playing, and he dropped three foreboding words: "He. Is. Coming."
Dun dun dun! I'm still not sure what The Flash is getting at with the visions of Wells that Nash is seemingly hallucinating, why Reverse-Flash would still be in his Wells form (other than Tom Cavanagh continuing to nail the role), or even why Sherloque is the Wells who may have revealed Reverse-Flash's return, but if I see red eyes and hear that sound effect, I think Reverse-Flash! If The Flash is indeed bringing him back, then maybe fans who despaired at his absence in "Crisis on Infinite Earths" will get what they'd wanted.
Many fans assumed Reverse-Flash would be back for "Crisis on Infinite Earths," not least because Reverse-Flash's last words to Barry in the Season 5 finale were "See you in the next Crisis." Yet Reverse-Flash was nowhere to be seen, and Tom Cavanagh was only playing Nash Wells as Pariah.
Arrow-verse executive producer Marc Guggenheim weighed in on the absence of Reverse-Flash in "Crisis" back when the crossover aired, and his comments didn't exactly confirm that the legendary Flash baddie would be back sooner rather than later. Here's how he put it to TVLine:
Could The Flash be making up for Reverse-Flash's absence from "Crisis on Infinite Earths" (despite five seasons of hints that he had a part to play) by using the post-Crisis changes to bring him back? It would be a slight oversight of Spectre-Oliver at the end of the crossover if he accidentally opened the door for Barry's archnemesis to return, but he did have a lot going on at the time.
Some fans have theorized that Nash Wells has been Reverse-Flash from the future all along. I'm not sure what to think after the "Grodd Friended Me" tease, but I am psyched at the prospect of more Tom Cavanagh as Reverse-Flash. For me, The Flash delivered its best big bad with its first big bad.
And hey, Flash showrunner Eric Wallace promised crazy things in the second half of Season 6, and The Flash finding a bizarre way to bring back Reverse-Flash after his glaring absence in "Crisis" fits the bill! See what happens next on The Flash with the next new episode on Tuesday, March 10 at 8 p.m. ET. That episode will bring back Wally West and Cisco Ramon; as for Iris and Reverse-Flash, only time will tell.
Resident of One Chicago, Bachelor Nation, and Cleveland. Has opinions about crossovers, Star Wars, and superheroes. Will not time travel.
Your Daily Blend of Entertainment News
Thank you for signing up to CinemaBlend. You will receive a verification email shortly.
There was a problem. Please refresh the page and try again.