How The Flash Is Handling Danielle Panabaker's Pregnancy In Season 6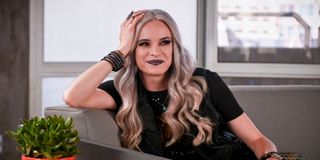 The Flash's Danielle Panabaker announced that she was expecting her first child with husband Hayes Robbins last fall. Since then, some have wondered whether the superhero show, which recently returned for its first post-"Crisis on Infinite Earths" episode with a new mystery, would address the actress' pregnancy in Season 6. Showrunner Eric Wallace explained how The Flash would handle it and here's what he had to say:
It probably will be that way for the audience because The Flash has done a decent job of hiding Danielle Panabaker's pregnancy so far. While she isn't due until May, The Flash's Season 6 episode "Marathon" already had her sitting behind a desk in the opening scene and it seems that will continue as the actress' pregnancy becomes even more noticeable in future episodes.
It's understandable why The Flash isn't writing her pregnancy into the season, though, especially given the nature of the show. Other shows have successfully written in pregnancy storylines for their actresses, like Superstore, which worked in America Ferrera's real-life pregnancy into her character Amy's Season 3 plot.
However, Danielle Panabaker's pregnancy wouldn't have made sense for either of her characters' storylines at the moment. Caitlin has taken a backseat to Frost at the moment, but the latter is still learning how to really live in the world and a pregnancy would have only complicated matters.
That said, Eric Wallace didn't reveal to TVLine whether or not the writers would have to make up a reason for her potential absence from the show at some point. While it hasn't been confirmed if the actress will go on maternity leave before The Flash is finished filming in April, I can't imagine that Danielle Panabaker would want to fly back and forth to Vancouver in her final trimester if she's due in May.
Most recently, Carlos Valdes' Cisco revealed he was leaving Central City for a while to compile research on the newly minted Earth Prime, so The Flash is no stranger to writing out characters for a while if the need arises. While it's unclear how many episodes Valdez will miss, Eric Wallace has confirmed that he would be back soon.
The Flash Season 6 airs new episodes every Tuesday at 8 p.m. ET on The CW. For more on what to watch, be sure to check out our 2020 midseason schedule for updated premiere dates and times.
Your Daily Blend of Entertainment News
Thank you for signing up to CinemaBlend. You will receive a verification email shortly.
There was a problem. Please refresh the page and try again.