Chicago P.D. Delivered The Burzek Scene We've Been Waiting For, So What's Next?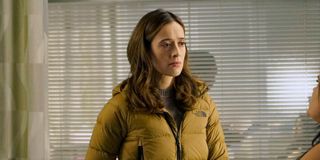 (Image credit: NBC)
Spoilers ahead for Episode 15 of Chicago P.D. Season 7, called "Burden of Truth."
The second half of Season 7 has been rough on Kim Burgess thanks to the brutal beating by a sex trafficker that resulted in her losing her pregnancy. She and Ruzek were solid and even planning on living together to platonically coparent, she willingly went on light duty, and she tried with every fiber of her being to stay safe, only to lose her baby anyway. "Burden of Truth" delivered a much-needed scene of Burzek actually talking to each other, but what does it mean for the future?
To consider what could happen next, we need to first look carefully at what happened before and what happened in "Burden of "Truth."
What Happened With Burgess And Ruzek
Burgess more or less shut down on everybody, including Ruzek, after she lost her pregnancy. The long-awaited conversation about the miscarriage came in an episode packed with people reminding her of what she lost, with a patrol officer sharing his sympathies, Platt reaching out to try and help, and her own injuries affecting her in the field. Roman connected the dots, and she finally told her former partner and love interest what had happened. She was carefully unemotional about it, but that doesn't mean she could make it through the case without breaking.
The break happened when she and Ruzek were alone in the locker room and she noticed that he still had the sonogram picture up in his locker. Finally, Burgess expressed her feelings, and Marina Squerciati was fantastic in her character's breakdown, as was Patrick John Flueger as Ruzek finally realized what was happening with her. Burgess blames herself, is furious with herself, and just wants somebody else to blame her and be angry with her.
Ruzek refused to be angry, and was genuinely shocked when she said he blamed her for losing the baby. As Burgess listed the things she did that resulted in the brutal attack, Ruzek countered every point by reminding her that she saved a girl's life, and the girl would have died an awful death if Burgess had waited a moment longer. Burgess clearly still hadn't forgiven herself by the end of the scene, but she was at least showing emotion and talking about it. That's progress, and Ruzek was pretty great.
What Happens Next
Burgess didn't end the locker room confrontation any less angry with herself or seemingly likely to open up to Ruzek beyond the breakdown. By the end of the episode, Burgess agreed with Roman's statement that maybe people should be required to carry the pain of the things they've done, but asked if they don't get to decide what to do with that pain.
To me, that means that Burgess could be planning on burying herself back in her work and using her pain to do her job. Marina Squerciati did state after the miscarriage episode aired that Burgess is "dead inside," "throwing herself into work," and not allowing herself to lean on Ruzek. The confrontation in the locker room seemed to give her a little bit of catharsis, but she doesn't seem done punishing herself for saving a life at the cost of her own baby.
As for Ruzek, the confrontation finally gave him a window into what Burgess has been feeling, and he clearly had no idea that she was angry with herself and expected him to be angry with her. He doesn't have the physical recovery to deal with and didn't experience what Burgess went through during the attack, even if he did come to her rescue in the aftermath.
He's still emotionally processing, based on the fact that he still had the sonogram taped up in his locker, but he seems better off than Burgess. He could continue to try and help her or try to give her space. Hopefully he continues trying to reach out, but Burgess may continue rebuffing his efforts if she really does intend to channel her pain into work.
Basically, whatever happens next for Burzek, I'm guessing that another go at romance isn't in the cards any time too soon, no matter how much love there is between them. There's a lot of recovery and healing that needs to happen; it might happen faster and easier if they went through it together, but when has P.D. done things the easy way?
Tune in to NBC on Wednesdays to see what happens next for Burgess and Ruzek in new episodes of Chicago P.D., following new episodes of Chicago Fire at 9 p.m. ET and Chicago Med at 8 p.m. ET. One P.D. star is dropping by Med next week, so be sure to check out the whole One Chicago primetime block if you want all the P.D. action.
Resident of One Chicago, Bachelor Nation, and Cleveland. Has opinions about crossovers, Star Wars, and superheroes. Will not time travel.
Your Daily Blend of Entertainment News
Thank you for signing up to CinemaBlend. You will receive a verification email shortly.
There was a problem. Please refresh the page and try again.