Chicago P.D.'s Brutal Burgess Twist May Have Gone Too Far, But Marina Squerciati Nailed It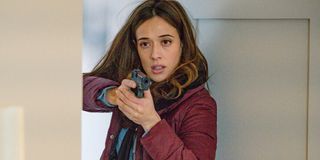 (Image credit: NBC)
Spoilers ahead for Episode 13 of Chicago P.D. Season 7, called "I Was Here."
Chicago P.D. delivered a heartbreaker of an episode that may have gone too far with "I Was Here," but Marina Squerciati's performance was among the best of the series as Kim Burgess. The show confirmed my fears about Burgess' pregnancy, and she suffered a miscarriage. If the miscarriage had happened naturally, the twist would have been tragic but not brutal. How it happened... well, it would be hard to blame Burgess if she has trouble physically and emotionally recovering.
Burgess finally went on light duty due to her pregnancy in "I Was Here" and began working as a 911 operator, but she received a call from a terrified girl that prompted Burgess to dive back into investigation again. Thanks to Burgess, Intelligence uncovered a sex trafficking ring and saved the girl who called for help. Unfortunately, a violent encounter with the man behind the trafficking ring resulted in a miscarriage.
When I say "a violent encounter," I mean a bloody, brutal, close-quarters fight between a large man and a smaller, pregnant woman while a teenager drowned in a bathtub with backup arriving too late. The scene was intense and heartbreaking, largely thanks to Marina Squerciati as Burgess.
From the moment the bad guy landed the first blow, Burgess clearly knew her pregnancy was very much in danger, but she didn't stop fighting for young Emma. When she finally managed to take him down, Burgess curled up around her belly in pain, then climbed into the bathtub and used her last remaining strength to pull Emma's head above water long enough for Upton to arrive and perform CPR. It was only when Ruzek rushed in that Burgess broke down into hysterical sobs and repeated "I don't know," "help me," and "please" over and over again.
I watch and write about TV for a living. I've covered the likes of Game of Thrones and Outlander on premium cable that can get more graphic than anything on broadcast television. I've pretty much seen it all. But I audibly gasped when the bad guy threw Burgess into a sink, then proceeded to throw her around, punch, and literally pound on her abdomen. Credit to Marina Squerciati for making the scenes of Burgess fighting for her life and learning about the miscarriage emotionally impactful rather than just brutal and violent.
It was ugly and awful and more than I ever expected to happen on-screen to a pregnant main character on a broadcast TV show, to the point that I knew and Marina Squerciati's performance suggests Burgess knew that the pregnancy was lost before the doctor confirmed it. Chicago P.D. is always heavy, but not like this!
"I Was Here" started with Ruzek planning on moving in with Burgess so he could be there when the baby was born and they could co-parent. Ruzek happily said goodbye to their "little ice cream baby," and they both laughed when Burgess explained it was the size of a navel orange, and then went to her light duty work. This episode made the pregnancy real and allowed both Burgess and Ruzek to seem really and truly excited about it, only to deliver a brutal beating to Burgess.
No wonder Burgess was all but catatonic when the doctor said her pregnancy was lost, and she couldn't even look at Ruzek when he came in to check on her. Frankly, I might need somebody to check on me! I never imagined a miscarriage happening for Burgess this way, and this explicitly, even on Chicago P.D.
I also want to give credit to Patrick John Flueger and Tracy Spiridakos for their performances in "I Was Here," for all that it was Marina Squerciati's episode from start to finish. As Ruzek, Flueger was simultaneously desperate, hopeful, heartbroken, and just wanting to help.
As Upton, Tracy Spiridakos gave an understated performance that (to me) showed an understanding of Burgess' drive to save Emma as a female police officer as well as an understanding of what was happening to Burgess in the bathtub. Chicago P.D. needed women to be showcased in an episode that was going to do something awful to the pregnant Burgess, and I found Upton was a solid supporting character in this Burgess showcase.
So, what's next on Chicago P.D.? A big crossover with Chicago Fire is on the way this month that will bring back an old character from P.D. in a "seedy" way, and I think "I Was Here" helps answer the question of why Burgess and Ruzek aren't in the thick of the action in images from the next episode.
Find out for sure in the next episode of Chicago P.D. on Wednesday, February 12 at 10 p.m. ET on NBC in the winter TV lineup, following new episodes of Chicago Fire at 9 p.m. ET and Chicago Med at 8 p.m. ET, and be sure to vote in our poll whether or not P.D. went too far with how it handled Burgess' miscarriage!
This poll is no longer available.
Resident of One Chicago, Bachelor Nation, and Cleveland. Has opinions about crossovers, Star Wars, and superheroes. Will not time travel.
Your Daily Blend of Entertainment News
Thank you for signing up to CinemaBlend. You will receive a verification email shortly.
There was a problem. Please refresh the page and try again.