The Flash Vet And Genius Robbie Amell Used To Use Stephen Amell's ID To Go Drinking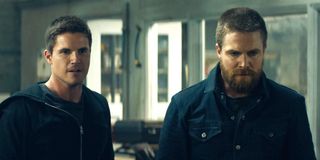 While Robbie Amell's stint on The Flash was rather short-lived, he at least got to share the same superhero universe as his cousin, Arrow star Stephen Amell. However, acting isn't the only thing the cousins have shared in their lifetime. The Flash vet recently revealed how he used the elder Amell's ID to go drinking, proving there really is nothing like family.
Though the two have distinctive features, the Amell cousins do share a close resemblance to each other and have been mistaken for brothers (I am guilty of this). In a recent appearance on A Little Late with Lilly Singh, the host asked Robbie Amell if people have ever confused the two of them before. The actor admits that they did for a while, and it was all because Robbie Amell took his older cousin's ID to get into bars. Here's what he told host Lilly Singh:
The real kicker is that Robbie Amell never gave his cousin back the ID, which Stephen Amell still looks kind of salty about after all these years. The younger Amell claims that he still "has it somewhere" and that it'll likely be "worth something someday."
Considering that Stephen Amell's career seems to be on an upward trajectory, with the actor following up his eight-season Arrow run with the Starz wrestling drama Heels, I'm sure it really will be worth a lot of money one day. That is, if Robbie Amell ever finds the ID. Watch the full clip from A Little Late with Lilly Singh below!
On The Flash, Robbie Amell played Ronnie Raymond, Caitlin Snow's husband and one half of the superhero duo called Firestorm. Though Ronnie died at the end of the show's first season, the actor has reprised his role at various points in the series, most notably when the characters visited Earth-2 and met the evil version of Ronnie's Firestorm in Season 2.
Outside of the Arrow-verse, Robbie and Stephen Amell co-starred together in the 2016 short film Code 8. It was then picked up to series by the streaming service Quibi, which is set to launch its service on April 6. In the meantime, you can check out our 2020 midseason schedule to see what else is on the small screen right now.
Your Daily Blend of Entertainment News
Thank you for signing up to CinemaBlend. You will receive a verification email shortly.
There was a problem. Please refresh the page and try again.