Why The Mandalorian Season 2 Probably Won't Be Delayed By Coronavirus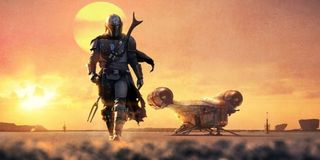 The coronavirus has affected TV productions in a major way over the last week. Riverdale's Season 4 production was suspended after a team member came into contact with someone who tested positive for the virus, and tons of other major network shows are coming to a halt. However, The Mandalorian's Season 2 debut probably won't be delayed by coronavirus, because the Disney+ series has already completed production.
The Mandalorian cinematographer Baz Idoine recently posted a picture to his Instagram confirming that production on Season 2 has officially wrapped. The image reveals two carps decorating the sides of the clapperboard, with director Dave Filoni's name splashed across the front. At the bottom of the clapperboard sits a hand-drawn image of the Mandalorian alongside a signature. Nothing fishy about that!
Check out Baz Idoine's Instagram post below!
This should be some good news for TV fans amid the continuous uncertainty surrounding the coronavirus outbreak. While many other TV and movie productions have taken a hit due to the pandemic, it's probably safe to assume that Season 2 of The Mandalorian will likely jetpack itself onto Disney+ as scheduled now that the principal filming is over. The rest of the magic will happen in post-production, with a ton of digital effects to add in, so chances of delays will probably be much lower.
That isn't to say that the coronavirus hasn't affected The Mandalorian at all. Fans clamoring for more Baby Yoda merchandise will have to wait a while longer because production on all the Baby Yoda toys and products is being delayed due to health concerns. The coronavirus has specifically affected Hasbro's supply chain. That's certainly not the first delay that has affected fans getting their hands on Baby Yoda merch, with Disney infamously holding off on making any toys and apparel for fear of spoiling the character's reveal in The Mandalorian Season 1.
Other Disney+ productions have already been faced with delays, with Marvel's highly anticipated The Falcon and the Winter Soldier having to halt production in Prague due to coronavirus. The series has primarily filmed in Atlanta, but it faced previous setbacks due to unforeseen circumstances in a different location. Back in January, The Falcon and the Winter Soldier was set to film in Puerto Rico, but an earthquake delayed filming on the island of Aricebo. It's important to note that the production team has returned to Atlanta, though there is no confirmation on whether filming in Prague is completely off the table, and if production will simply shift to continue shooting in Atlanta for now.
The Mandalorian Season 2 is currently set to premiere on Disney+ at some point in October, though no release date has been scheduled. Stay tuned to CinemaBlend for updates. For more on what to watch in the interim, be sure to check out our 2020 midseason schedule.
Your Daily Blend of Entertainment News