Legends Of Tomorrow's Brandon Routh Explains A 'Missed Opportunity' From His Final Episode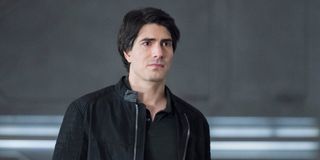 (Image credit: The CW)
Warning! Spoilers ahead for the Legends of Tomorrow episode "Romeo v. Juliet: Dawn of Justness."
Legends of Tomorrow saw Ray and Nora get a fairytale ending in last week's episode, finally saying "I do" and committing to be together through thick and thin. Before Damien Dahrk headed out, he promised (read: threatened) to kill Ray if he didn't do right by his daughter and leave the Waverider for good. She deserved some normalcy, right? So, Ray spent his final episode saying goodbye to his friends, but there was one person Ray didn't bid farewell to and Brandon Routh recently explained how much of a "missed opportunity" it was.
Months ahead of Legends of Tomorrow's fifth season, it was announced that Brandon Routh and Courtney Ford would be leaving the show as series regulars. Though Routh is clear that it wasn't his choice to go, Season 5's "Romeo v. Juliet: Dawn of Justness" was the final time he and Ford played Ray Palmer and Nora Dahrk, respectively, at least for now. However, while Ray got to have a one-on-one goodbye scene with Sara and Nate, Ray didn't share a moment to bid adieu to Mick, one of the original team members. Speaking with TVLine, Routh revealed his thoughts about it. Here's what he had to say:
Outside of Nate, Ray didn't get to have very many heartfelt conversations with most of his Waverider teammates. Most of the episode was spent figuring out how Ray would tell Nate, his best friend on the ship, about his leaving to start a new life with Nora. While Ray did get a chance to speak privately with Caity Lotz's Sara, Brandon Routh explained that he had to hold back during their chat and how difficult that was emotionally. In his words:
Personally, I don't think Ray got enough time with anyone, including Nate. I think the entire episode felt rushed, with the plot leading to Ray and Nora's exits rather abruptly. Legends of Tomorrow's fifth season is only seven episodes in at this point and I don't see why Ray's departure couldn't have been given more time to build toward a more emotional culmination of his journey. Like Nate told Ray before they said their final goodbyes, "This sucks."
Legends of Tomorrow airs Tuesdays at 9 p.m. ET. As an aside, the series' production won't be affected by the coronavirus pandemic the way other shows have been since they wrapped filming a while back. For more on what to watch, be sure to check out our midseason schedule.
Your Daily Blend of Entertainment News