First Look At Jessa Duggar Seewald In Say Yes To The Dress: Atlanta's New Season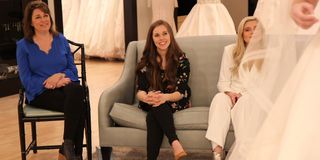 While most of the country is practicing social distancing due to the coronavirus, Season 11 of Say Yes to the Dress: Atlanta is ready to entertain audiences with a slew of celebrity guests and a lot of drama brewing to get everyone through quarantine. TLC recently revealed a first look at 19 Kids and Counting's Jessa Duggar Seewald in Season 11 and she has some thoughts regarding her sister-in-law's wedding dress.
Counting On's Jessa Duggar Seewald will be bridal dress shopping alongside Jessica Seewald, the sister of Duggar's husband Ben Seewald. In the image from Say Yes to the Dress: Atlanta's new season above, Duggar sits on the couch behind her sister-in-law, a smile on her face. However, while Seewald's taste in dresses may be somewhat more adventurous, Duggar will be on hand to suggest some modest dress choices for her sister-in-law's big day.
TLC recently released a two-minute clip from the show's upcoming season to expand on the image above. The brief scene showcases Jessica Seewald wearing a fabulous A-line wedding gown, smiling happily in front of the fitting room's mirror at the Bridals by Lori shop. Before walking out of the dressing room, she was aware that her family wouldn't like the dress. Lo and behold, Jessa Duggar Seewald's facial expressions reveal as much. Her issue with the dress is that it shows off too much of Jessica's chest. Here's what the reality star had to say about the dress:
However, Jessa Duggar Seewald conceded that she did love the cut of the skirt despite it being far too revealing on the top. It would seem that Duggar and Seewald clearly have very different tastes. It isn't just Duggar who thinks so, either. The rest of the bride's family and future mother-in-law chimed in, coming to the same conclusion about the dress being too damn low. Interestingly, the bridal dress was one of two that Seewald tried on that had a lower cut, making it very clear that she has very different tastes from the rest of her bridal entourage. Check out the clip from the season below!
Jessa Duggar Seewald isn't the only celebrity guest who will appear in Season 11 of Say Yes to the Dress: Atlanta. The new season will also include country music duo Maddie & Tae, who are looking for bridesmaids dresses, as well as Bring It On actress and singer Brandi Williams, who is on the hunt for a fresh new red carpet look.
Season 11 of Say Yes to the Dress: Atlanta is scheduled to premiere on Saturday, March 21 at 8 p.m. ET on TLC. For more on what to watch, be sure to check out our midseason schedule for updates.
Your Daily Blend of Entertainment News
Thank you for signing up to CinemaBlend. You will receive a verification email shortly.
There was a problem. Please refresh the page and try again.