Why The Mandalorian Adding Ahsoka Tano Could Answer Major Star Wars Questions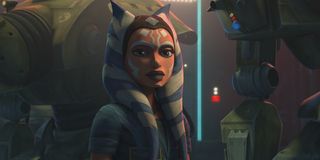 (Image credit: Disney+)
The Mandalorian may be months away from returning to Disney+ for Season 2, but some casting news should get fans hyped. Rosario Dawson is officially appearing in The Mandalorian Season 2 as Ahsoka Tano, marking the live-action debut of one of Star Wars animation's most popular characters. Ahsoka first appeared in the 2008 Clone Wars animated movie, voiced by Ashley Eckstein, and would go on to play key parts in Star Wars: The Clone Wars and Star Wars Rebels. When it comes to The Mandalorian, Ahsoka Tano could answer some big Star Wars questions.
Although the final season of The Clone Wars is currently releasing on Disney+ to tie together the prequel trilogy era of Star Wars, there are still some mysteries surrounding the original trilogy era and beyond that Ahsoka could be key to solving. For Star Wars Rebels fans, probably not the mystery of when little Jacen came into existence, but definitely some others!
Spoilers ahead for the Star Wars Rebels animated series.
What Happened After Star Wars Rebels' Epilogue?
The final season of Star Wars Rebels finally revealed that Ahsoka survived her duel with Darth Vader thanks to Ezra yanking her out of the battle in the nick of time while he was traveling through the World Between Worlds. They went their separate ways shortly afterward, but Ahsoka promised to find Ezra later. That promise came back at the very end of the series, when the epilogue revealed what the Ghost crew was up to after surviving the events of the original trilogy.
Ahsoka found Sabine, and together they left on a journey to find Ezra. Unfortunately for fans, the epilogue didn't drop any details about their journey or what actually happened to Ezra. With The Mandalorian taking place five years after Return of the Jedi and Ahsoka turning up, could The Mandalorian reveal what happened after the Rebels epilogue?
Could Ezra And Sabine Appear In Star Wars Again?
At the end of Rebels, Ezra was missing after he and Thrawn were taken to parts unknown by the hyperspace-traveling purgill, and Sabine joined Ahsoka on a mission to track him down. Depending on how successful their mission was, Ahsoka may have already found Ezra by the time she pops up on The Mandalorian five years or so after the end of Rebels, and she could presumably tell the story of what happened to Ezra and what she did with Sabine. Alternately, Ezra and/or Sabine could appear on The Mandalorian!
I've actually felt for a while that Ezra would be a great fit for The Mandalorian Season 2, and voice actress Tiya Sircar has expressed interest in playing Sabine in live-action. If Ahsoka and Sabine haven't found Ezra by the time Ahsoka meets up with Mando, wouldn't it stand to reason that Sabine would be there? Or all three of them could be together? Honestly, even if Ezra and Sabine are nowhere to be seen on The Mandalorian, it would make sense for Ahsoka to tell Mando about the young Mandalorian who was a fierce and proud warrior yet did not wear her helmet all the time.
Where Is Thrawn?
Arguably Star Wars Rebels' greatest villain, Grand Admiral Thrawn was with Ezra when they were zapped into the unknown in the series finale. Thrawn was a huge figure in Star Wars Legends and caused a lot of harm to the Rebels rebels in current Star Wars canon, but he hasn't been seen again since the end of Rebels. If we assume that The Mandalorian isn't going to just ignore what Ahsoka was doing the last time she appeared chronologically in canon, then it stands to reason that The Mandalorian will explain what happened to Thrawn.
If Thrawn isn't dead, then Star Wars has another big bad to play with in the post-original trilogy era! It's worth noting that The Mandalorian executive producer Jon Favreau was flat-out asked if Thrawn could appear on the show, and his answer was definitely intriguing. Even if Thrawn doesn't appear, will Ahsoka's appearance on The Mandalorian at least provide an update on him? The Mandalorian has an intriguing villain of its own (complete with the Darksaber) so it doesn't need Thrawn, but that galaxy far, far away is a big place with plenty of battles to be fought.
How Did Rey Hear Ahsoka's Voice?
If we're going to be technical, The Mandalorian technically won't be the first live-action Star Wars project to include Ahsoka Tano, since Ahsoka had a minor part to play in Star Wars: The Rise of Skywalker. When Rey reached out to the Jedi of the past, she heard their voices, and one of those was Ahsoka's. Since Ahsoka was heard along with voices like Obi-Wan Kenobi, Qui-Gon Jinn, and even Star Wars Rebels' Kanan, fans understandably began to speculate that Ahsoka too was dead by the time of Rise of Skywalker.
While Clone Wars boss and Mandalorian director Dave Filoni cautioned that there is "no absoluteness" that Ahsoka had to be dead for her voice to reach Rey, there are still big questions. Did Ahsoka, as I speculated after Rise of Skywalker released, return to the Jedi path and was therefore naturally one of the voices Rey heard when she reached out to Jedi of the past? Was Ahsoka's padawan training enough for her to be among those voices after her death? Is Ahsoka alive after all? The Mandalorian could drop some details about decisions she's making and paths she's choosing that could lead her to be among those voices.
Does Ahsoka Tie Everything Together?
Once Ahsoka turns up on The Mandalorian courtesy of Rosario Dawson finally getting her wish, she will have directly or indirectly influenced events in every era of the Star Wars saga. She was all over the prequel era courtesy of The Clone Wars, joined the rebellion against the Empire to play a part in Rebels, is jumping to live-action, and will help Rey along with the other Jedi of days gone by in time to defeat Emperor Palpatine in Rise of Skywalker.
By this point, I half expect her to turn up on Tatooine to hang out with Obi-Wan in Ewan McGregor's Disney+ series and pop up as Fulcrum in the Rogue One prequel series! Ahsoka has ties to the biggest characters in the saga, although not always directly. Her appearance on The Mandalorian will tie the series closer to the rest of the saga. Maybe it will open the door for more big name Star Wars characters to drop by The Mandalorian to hang with Mando and Baby Yoda.
See Rosario Dawson as Ahsoka when The Mandalorian Season 2 debuts in the fall on Disney+ (opens in new tab). For now, you can catch Ahsoka in action on Star Wars: The Clone Wars (including the ongoing finale season) and Star Wars Rebels, especially if you have some free time courtesy of the coronavirus shutting everything down!
Your Daily Blend of Entertainment News
Laura turned a lifelong love of television into a valid reason to write and think about TV on a daily basis. She's not a doctor, lawyer, or detective, but watches a lot of them in primetime. Resident of One Chicago, the galaxy far, far away, and Northeast Ohio. Will not time travel, but will sneak references to The X-Files into daily conversation.