Why One Office Actor Thinks A Christmas Reunion Is The Best Idea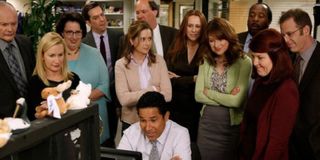 The Office has been off the air for nearly a decade, but the series has garnered even more fans over the years thanks to its availability on Netflix. Some fans may be feeling particularly nostalgic today, as this marks the 15th anniversary of the show's original debut on NBC. With a number of sitcoms getting reboots and revivals, fans have been clamoring for a Dunder Mifflin reunion in hopes to see the cast once more. In that vein, The Office actor Creed Bratton thinks a Christmas reunion is the best idea to get everyone back together.
When The Office cast reunited at the home of former showrunner Greg Daniels, it fueled speculation about a potential revival for the beloved comedy series. In fact, John Krasinski has previously revealed that he would be down to reunite with the cast, especially if it were something along the lines of a reunion special or event. Creed Bratton reiterated that sentiment, admitting that Krasinski had suggested a very specific reunion that he would also be on board with. Here's what he told ComicBook.com about the Christmas reunion idea:
That sounds like a lot of fun! It would be especially fitting because The Office's Christmas episodes were quite memorable throughout the show's original run. However, as exciting as it is to daydream about the cast returning for another round of Christmas cheer, Creed Bratton doesn't think that a Dunder Mifflin reunion will be happening anytime soon. In his words:
The actor isn't wrong. Most of The Office stars are busy working on other projects and have for quite some time. Rainn Wilson has also brought up how difficult it would be to get everyone back together for a reunion, no matter how badly fans want to see it. What's more, showrunner Greg Daniels shared that his "biggest concern" with reviving the NBC comedy was having to face fans' potential disappointment after that perfect ending.
That said, nothing's ever off the table completely and, hey, if the Friends cast can get a reunion special over at HBO Max 16 years after the series finale, then I'd wager there's still hope for The Office to get a reunion special, too.
For now, fans can celebrate the show's 15th anniversary by continuing to binge-watch the series on Netflix before it eventually moves to NBCUniversal's Peacock. If you're looking for more current TV shows to watch, be sure to check out our midseason schedule.
Your Daily Blend of Entertainment News
Thank you for signing up to CinemaBlend. You will receive a verification email shortly.
There was a problem. Please refresh the page and try again.