How Much The Friends Cast Is Being Paid For HBO May Reunion Special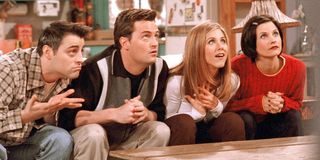 It's been over 15 years since Friends ended its 10-season run on NBC. Thanks to reruns and previous availability on Netflix, the beloved NBC sitcom grew even more popular. A reunion special has been in the works for some time, but it's official now! The cast of Friends is reuniting for an unscripted special on HBO Max and they're reportedly being paid a lot of money to do it.
While the original cast has publicly reunited at various points throughout the years, the reunion special marks the first time since the series ended in 2004 that all six cast members are together at once. According to Variety, the reunion special will be exclusive to HBO Max and will air when the new streaming service launches in May.
What's more, the cast members — Jennifer Aniston, Lisa Kudrow, Courteney Cox, Matt LeBlanc, Matthew Perry, and David Schwimmer — are reportedly being paid a whopping $2.5 million each to participate in the reunion special. The amount had previously been reported as being in the $3-$4 million range.
The cast will return to the Stage 24 soundstage on the Warner Bros. Studio lot, which is where Friends used to be filmed. The special will be available to HBO Max subscribers at launch, alongside all ten seasons of the original series. It's a good day to be a Friends fan!
It's important to keep in mind, however, that the reunion special is not a revival, reboot, or a reimagining of Friends, which officially left Netflix on the 1st of January, but more of a celebration of the long-running comedy series.
Personally, that sounds better than a reboot or a revival, which is what other sitcoms, like Will and Grace, Fuller House, and Mad About You, have gotten. Revivals can be good, but with a show as iconic as Friends, it might prove more difficult to bring it back without disappointing fans. A reunion special is the next best thing!
In a statement regarding the Friends cast reunion special, chief content officer at HBO Max Kevin Reilly spoke about the reach the sitcom has had and how thrilled he is for audiences to see it. In his words:
It's really great news as fans have been clamoring for a reunion for some time now. Last September, series co-creator Marta Kauffman burst fans' bubble, stating that they wouldn't be doing a Friends revival or reunion, though Jennifer Aniston has fantasized about it. Whatever the case, it seems Kauffman changed her mind because she'll be executive producing the reunion special alongside fellow co-creator David Crane.
The Friends reunion special will premiere on HBO Max when it launches at some point this May. In the meantime, be sure to check out our 2020 midseason schedule for updated premiere dates and times for all cable and streaming shows.
Your Daily Blend of Entertainment News
Your Daily Blend of Entertainment News
Thank you for signing up to CinemaBlend. You will receive a verification email shortly.
There was a problem. Please refresh the page and try again.