One Chicago Showrunners Talk Halstead's Romance, Severide's Investigation And Future Of Fire And Med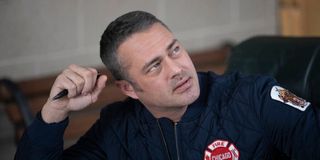 (Image credit: NBC)
One Chicago has made NBC the place to be on Wednesdays for a full lineup of shared universe action, with Chicago Med, Chicago Fire, and Chicago P.D. All three series scored massive renewals to guarantee a long future ahead with more milestones to hit, and the next episodes on March 25 promise to deliver more of what fans love about One Chicago. Fortunately, the showrunners for Chicago Med and Chicago Fire shared some of what's still to come in the 2019-2020 TV season and perhaps even beyond.
Chicago Med will kick off the One Chicago block of primetime on NBC at 8 p.m. ET on March 25, with an episode called "In the Name of Love."
"In the Name of Love" will be Chicago Med's first episode following the milestone 100th episode. While Maggie and Ben's story was happy, others didn't fare so well. The truth finally came out about April and Crockett kissing, and Ethan didn't react well, confronting Crockett in the hospital and causing a scene. Chicago Med showrunners Andrew Schneider and Diane Frolov (who previously named their top moments after 100 episodes) previewed the fallout between April and Ethan:
April and Ethan were engaged and trying for a baby before the Crockett kiss reveal, with April hospitalized after she went a little too far trying to make sure the IVF would be a success. Fans of the Chexton relationship should be reassured by the showrunners' comments that the couple has problems that "need to be overcome" rather than that they simply gave up on their relationship.
Another complicated relationship in Chicago Med Season 5 is Will Halstead and recovering drug addict/gynecologist Hannah Asher. Despite the less-than-ideal circumstances with how they met and the sticky issue of Will turning her in for using drugs, sparks were flying between them again in the 100th episode. Andrew Schneider and Diane Frolov shared what to expect from their relationship:
"In the Name of Love" will feature Dr. Charles and Goodwin fearing that Halstead is repeating some of his past mistakes, so he could be facing some complications at work as well as in his relationship with Hannah.
As for Goodwin, a promotional photo (shown above) revealed that her son Michael will make an appearance in the March 25 episode. Andrew Schneider and Diane Frolov explained why the time was right to debut another member of her family and the future of the series as it continues:
Be sure to tune in to Chicago Med on March 25 at 8 p.m. ET on NBC to catch "In the Name of Love." SJ Main Muñoz directed the episode as part of NBC's Female Forward program, and she previewed Natalie's plot with Crockett and more.
So, what's in store on the March 25 episode of Chicago Fire, at 9 p.m. ET following Chicago Med? Fire showrunner Derek Haas teased what's coming in the episode, called "I'll Cover You."
"I'll Cover You" will bring Seager back into the mix again after her stint as Severide's partner at OFI and now the sponsor of Stella's project. Brett will continue to get invested in her birth mom, following Julie's hunt for a place to live in last week's episode. Derek Haas didn't spill any details when asked whether fans should be concerned if Brett is getting too attached to Julie too quickly, but he did tease this:
While Chicago Fire is sometimes sunshine and roses, fans still smarting from the loss of Otis at the beginning of the season (and perhaps nervous about Julie's health after One Chicago's tragic history with pregnancies) might want to start feeling at least a little bit concerned about Brett getting attached to her birth mom. Hey, at least Brett's friendship with Casey is flourishing!
Derek Haas didn't beat around the bush about a different plot in "I'll Cover You" that definitely won't be all sunshine and roses. He previewed Severide teaming up with OFI again:
Apparently his dangerous investigation with Roman during the Chicago Fire/Chicago P.D. two-parter hasn't discouraged Severide from wanting to dive into dangerous situations in the search for answers. The promo for "I'll Cover You" indicates that he'll be at risk of harm again, although seemingly not from something as serious as in the winter finale.
On a less deadly front, Stella will continue her efforts with Girls on Fire in "I'll Cover You." Derek Haas weighed in on whether the Girls on Fire program could continue in the future of Fire:
See what happens next on Chicago Fire when "I'll Cover You" releases on Wednesday, March 25 at 9 p.m. ET on NBC. Last week's episode included a dangerous stunt that was even more impressive in real life, so it should be interesting to see what Fire has in store next. Chicago P.D. will close out the night of March 25 at 10 p.m. ET with an episode that brings somebody important from Rojas' past back in a risky way.
Unfortunately, all three shows of One Chicago had to halt production due to the coronavirus pandemic that has impacted much of the entertainment industry, so fans should expect shorter seasons than anticipated. For now, however, be sure to stick with NBC on Wednesday nights for Chicago Med, Fire, and P.D. action.
Resident of One Chicago, Bachelor Nation, and Cleveland. Has opinions about crossovers, Star Wars, and superheroes. Will not time travel.
Your Daily Blend of Entertainment News
Thank you for signing up to CinemaBlend. You will receive a verification email shortly.
There was a problem. Please refresh the page and try again.