Chicago Med's Will Needs To Learn From His Mistakes For Hannah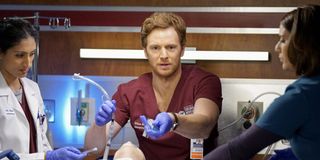 (Image credit: NBC)
Spoilers ahead for the March 25 episode of Chicago Med Season 5 on NBC, called "In the Name of Love."
Chicago Med dug deep into several of the show's relationships, old and new alike, in "In the Name of Love." While April and Ethan continued to deal with the fallout of the 100th episode, Maggie and Ben helped a young boy, Natalie and Crockett butted heads, Goodwin and Bert had a talk with their son, and Will Halstead was very... well, Will Halstead. To Dr. Charles' dismay, Will was pursuing a relationship with Hannah very early in her recovery while also falling back into some old medical habits, and he needs to learn from his mistakes for Hannah's sake.
Will found himself facing a case of a woman with early-onset Alzheimer's and an advanced directive whom he wanted to save anyway, and he appalled Charles and Goodwin by intubating her. She did give her permission in a moment of clarity, but he still more or less did the same thing that got him sued a few seasons ago. It all worked out in the end, although not before Will took some jabs at Dr. Charles after he disagreed with him.
Still, Will came to see Dr. Charles' point about it not being the best idea to become romantically involved with Hannah in the first year of her recovery, since a breakup could result in a relapse. After a dinner date, Will tried to let Hannah down easily and decline coming up to her apartment because he didn't want to set her back. Hannah proved that she knew the risks of romance in the first year and convinced Will to come up with her anyway so they could talk about it.
Will has made some dangerous decisions throughout Season 5, although with the best of intentions. He risked his medical license by working with the illegal safe injection site and really lucked out that Hannah didn't react to him turning her in by turning him in. His relationship with Natalie was more or less a mess ever since the Season 4 fall finale, and he tends to be very headstrong in his career.
Although I've had my doubts about Will connecting with Hannah considering how their relationship started, I will say that Will needs to learn from his past mistakes if he's going to make it work with Hannah. Despite her reassurances and her confidence, she's in a delicate place and could cause some serious harm if she falls off the wagon and goes to work. I'm not saying that I want love, marriage, and baby in a baby carriage for Will and Hannah, but I would like to see Will take a soft touch with Hannah and help her rather than unintentionally make things worse.
Honestly, I'd love to see Will call up Connor for some advice. Although Will's situation with Hannah is very different from Connor's situation with Robin (and Connor's with Robin didn't exactly have a happy ending), Connor could be somebody for Will to talk to about a romantic partner dealing with a health issue.
Then again, maybe I just want to see Connor again. The showrunners have said that Connor is doing well since leaving Med in the Season 5 finale. Even if Colin Donnell couldn't reprise his role, knowing that he and Will are in contact would be nice. Will could probably use a friend right about now.
See what happens next for Will and Hannah with new episodes of Chicago Med airing Wednesdays at 8 p.m. ET on NBC. Chicago Med was unfortunately one of the many shows with seasons cut short due to the coronavirus pandemic, but the fifth season isn't over yet, and the bosses already have a creative jump on Season 6.
Resident of One Chicago, Bachelor Nation, and Cleveland. Has opinions about crossovers, Star Wars, and superheroes. Will not time travel.
Your Daily Blend of Entertainment News
Thank you for signing up to CinemaBlend. You will receive a verification email shortly.
There was a problem. Please refresh the page and try again.