Fans Compare Netflix's The Letter For The King To Game Of Thrones, But Not Everyone Agrees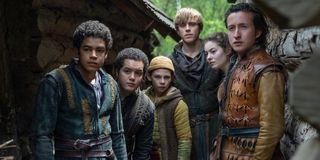 While many have strong opinions about Season 8 of Game Of Thrones and how disappointing it was, it seems many are still holding out hope for that next big show that captures their attention in the same way. There are those who say Netflix's The Letter for the King is that new series we could all be obsessed with, though not everyone agrees.
This new Netflix original follows Tiuri, a knight in training who's tasked with an important quest. An evil prince has threatened to cast the entire world into darkness, and there's a good chance it'll happen unless Tiuri can deliver a secret letter to the king. The story expands a great deal from that premise, and some who have watched it are legitimately wondering if this is a proper substitute for Game of Thrones, as seen below.
Given the massive ratings Game of Thrones netted for HBO, I'm sure Netflix doesn't mind one bit that The Letter for the King being compared to the fantasy epic. The two are indeed similar in several ways, considering both shows are based on best-selling novels, though The Letter for the King is much older than George R.R. Martin's entire A Song of Ice and Fire series, which started with A Game of Thrones. The Letter for the King was written by Dutch author Tonke Dragt in 1962, though it wasn't re-published in English until 2013.
One major fundamental difference between The Letter for the King and Game of Thrones series is the particular genre. Game of Thrones was obviously a fantasy novel intended for adult audiences, while The Letter for the King is far more young adult, which may be why others are trying to find another series to compare it to, while still acknowledging the magic and medieval elements that give the strong G.o.T. vibes.
The Letter for the King series was developed for television by a notable name in the fantasy genre: Will Davies. Davies was the writer of How To Train Your Dragon, which has since been spun into a successful film and television franchise. Of all the people on board with The Letter for the King, many like that the six-episode series is able to be a serviceable fantasy series that can be enjoyed by the whole family. The same can't exactly be said for a show with ample nudity, or one where fan-favorited characters get their eyes gouged out.
Just because some viewers get the same heightened pleasures from The Letter for the King, though, doesn't mean it's the next Game of Thrones. Not everyone likes the comparison, due to the graphic nature mentioned above that isn't present in The Letter for the King. There are others who simply believe the two shows are entirely separate, and don't really warrant much comparison at all.
The Letter for the King currently has a critical score of 56% and audience score of 57% on Rotten Tomatoes. That's not exactly a glowing score, especially when compared to Game of Thrones' earliest seasons, though it's not far off from the 60% needed to be considered "fresh" either. It looks like this is truly a polarizing series where audiences can't decide what they think about it, which may itself be the most apt comparison point to make between it and Game of Thrones.
The Letter for the King can currently be streaming on Netflix. Check it out and be sure to stick with CinemaBlend for all the latest news happening in television and movies.
Mick likes good television, but also reality television. He grew up on Star Wars, DC, Marvel, and pro wrestling and loves to discuss and dissect most of it. He's been writing online for over a decade and never dreamed he'd be in the position he is today.
Your Daily Blend of Entertainment News
Thank you for signing up to CinemaBlend. You will receive a verification email shortly.
There was a problem. Please refresh the page and try again.