The House Of The Dragon: 4 Things We Hope HBO's New Show Does Better Than Game Of Thrones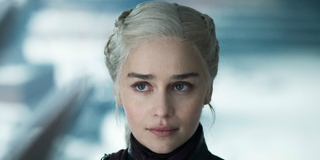 (Image credit: Helen Sloan / HBO)
It has been a wild year for fans hoping for a Game of Thrones spinoff. HBO ended up axing the first one brought to the pilot stages. Fans will recall that Naomi Watts was set to star in the potential series. While that news was disappointing, there was a huge silver lining. HBO announced the House of the Dragon spinoff with one big bonus.
The Targaryen-centric spinoff has been ordered to series. CinemaBlend's Gina Carbone wisely urged HBO to take its time crafting the already much-anticipated Game of Thrones prequel. Yes, a prequel. Spinoff series that takes place after the events of the iconic show are not currently a thing. Yes, I am frustrated too.
For its part, HBO wants to focus on the past when it comes to the sprawling mythos of George R.R. Martin's epic story. Thus, the Game of Thrones franchise will once again look to the past for its future. House of the Dragon will take place 300 years before Game of Thrones, so Jon Snow and Tormund will not be swinging in.
Jon Snow and Daenerys' ancestors will be swinging by in a significant way. As House of the Dragons' title suggests, the Targaryens will be its focus. Casting calls have gone out for Aegon (Jon's original namesake at birth), and his older and younger sisters, Visenya and Rhaenys, respectively, per Knight Edge Media. What is next? For now, this fan hopes that HBO's new show can do these things better.
A Lot More Romance
As a (clear-headed) romantic, one of the major problems that I had with Game of Thrones was the lack of relationships worth shipping and lack of winning love stories overall. I get that the battles and fight for the Iron Throne were intriguing. However, what is a war for a throne without a fight for love?
Robb Stark and his wife Talisa's love story remained one of Game of Thrones' best attempts at a love story, in my opinion. Sadly, like many lives on the HBO show, theirs was cut short by violence. Then there was the issue of Tyrion, once an avid lover, going almost entirely celibate after the betrayal of the horrible Shae.
While Tyrion may have loved Daenerys romantically, it is still a matter of conjecture. Hopefully, House of the Dragon makes the point of cupid's arrow more definitive and long-lasting. A core romance that unfolds for multiple seasons would make my heart swell. Fans need something to ship! Romance is one of the finest seas to sail!
Stronger Family Bonds
One of the things that I loved about the early and final season of Game of Thrones was the strength of the Stark siblings' bond with one another. For me, there was no more uplifting moment in the series' history than when Jon Snow and Sansa reunited in Season 6.
However, the Starks came closest to resembling a functioning family unit. One that countered the attention-getting incestuous relationship between Cersei and Jaime Lannister. Since House of the Dragon will be focusing on the Targaryens, it would seem that incest could play a large role in the HBO spinoff too.
I would love to see House of the Dragon eschew expectations a bit by having a counterbalance with a family that shares a bond similar to the Stark siblings. Their relationship was beautiful and a similar dynamic getting explored on the spinoff would personally be welcome. The complex bond between siblings can give way to wonderful drama.
Showing Young Families
When I think about Game of Thrones and summing up what it was about, there is one thing that comes to mind – family politics. The inner workings of a family's power structure got explored in an expert way in the show's early seasons. When the cast continued to shrink and no kids arrived to replenish the families' trees, that changed.
There were a lot of young characters on Game of Thrones, and almost none of them had any kids during the show's eight-season run on HBO. By the time the show ended, there was little hope that any of the core families would continue. The Starks? Pretty much done. The Lannisters? Maybe (emphasis on maybe). The Targaryens?
Well, you probably know the answer. In a cast with young characters, the only child I can think of being born on Game of Thrones was Little Sam. Will House of the Dragon see the emergence of young families? I hope so. It would be nice to see how a growing family works as well as established ones.
Remain Adult
When Game of Thrones came onto the scene, it made waves for a significant reason. The HBO hit was an adult show. As the series moved forward, it started toning down the amount of violence and nudity. By the time it came to its controversial end, Game of Thrones could have aired at 10 p.m. ET on network television, in my opinion.
The result was two-fold. It arguably helped give the show a wider audience. The downside? Game of Thrones lost its edge in the process. Turning down the graphic violence was totally fine with me. It was not the reason I watched. The show losing its sexuality is where things went off track.
Expectations that House of the Dragon will be daring, provocative, and sexy are probably there. If HBO's upcoming spinoff gets off to the same start as Game of Thrones, it will probably grab some of the same criticisms aimed at the original. Hopefully, it will not collapse to the pressure and keep its sexy side.
What else can House of the Dragon do better than Game of Thrones? The HBO series would benefit from heading down the rabbit hole of prophecies that do not necessarily lead anywhere. How did that whole Prince That Was Promised/Azor Ahai thing turn out? I am still unclear.
As someone who misses Game of Thrones, there is undoubted excitement to see House of the Dragon. While I was a Stark fan who loved the direwolves over the dragons, it will be fun to revisit the imaginative world that George R.R. Martin has imagined.
Plus, "Battle of the Bastards" and "The Bells" director, Miguel Sapochnik, will be co-showrunning House of the Dragon with Ryan Condal. Yes, I am excited. Let all of us hope that House of the Dragon gets its lighting is better, so viewers can take it all in!
Game of Thrones' final season is now available on digital and DVD. Winter (and spring) premieres are coming to television while fans wait for House of the Dragon. It is currently set to debut at some point in 2022 on HBO!
Your Daily Blend of Entertainment News
Like a contented Hallmark movie character, Britt happily lives in the same city she grew up in. Along with movies and television, she is passionate about competitive figure skating. She has been writing about entertainment for 5 years, and as you may suspect, still finds it as entertaining to do as when she began.