Game Of Thrones Let Jon Snow Get Away With Murder And Emilia Clarke Has Thoughts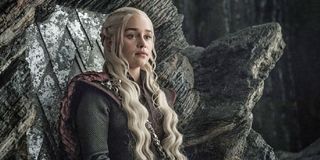 It's been nearly a year since Season 8 of Game of Thrones premiered on HBO. While many fans cheered when Arya Stark swooped in and killed the Night King, other storylines left many fans feeling shocked and angry at the showrunners. The divisive final season went full steam ahead regarding Daenerys Targaryen's development into the Mad Queen, but then Jon Snow up and killed her in the series finale. As it turns out, Emilia Clarke was rather displeased that Game of Thrones let Jon Snow get away with murder.
Daenerys Targaryen faced many challenges throughout Game of Thrones' final season. Daenerys believed she had found an ally in Jon Snow and the closer they got, the more sure the Mother of Dragons became in her fight to claim the Iron Throne. However, after she burned King's Landing to the ground, her nephew/lover betrayed her and killed her right there in the throne room. Speaking with The Sunday Times, Emilia Clarke reveals that she wasn't too thrilled about Dany's fate. Here's what she said:
She's not wrong. While Daenerys got the short end of the stick, Jon Snow left the Seven Kingdoms behind to go north of The Wall with the Free Folk. He may not see his family for a while, if ever again, but he wasn't tried or sent to prison for the murder he committed. An oversight if there ever was one, in my opinion.
The Game of Thrones actress had previously stayed relatively quiet about Daenerys' death at the hands of Jon Snow. However, that isn't to say that she hasn't voiced her unhappiness about her character's demise in other ways. Months ahead of Season 8, Emilia Clarke nearly spoiled Daenerys' ending and also cringe-smiled her way through a question asking if she was happy with her character's ending. There was a lot of awkward laughter, that's for sure, and even co-star Lena Headey had "mixed feelings" about Season 8's ending.
Later on in the interview, Emilia Clarke was told about fan complaints, which often suggested that Game of Thrones had rushed through the final few seasons, pushing through complicated storylines to get to the ending faster. Clarke seemed to be in agreement. In her words:
Personally, I agree because six episodes was not nearly long enough to wrap up any of the show's storylines. Even author George R.R. Martin admitted that the final season was meant to be a movie trilogy, but it was ultimately not in the cards.
Now that Game of Thrones has been off the air long enough, I'd wager that Emilia Clarke is far more comfortable sharing her feelings about the show's ending. It seems the character meant a lot to the actress and she even got all three of Dany's dragons tattooed to the inside of her wrist as a farewell to the show.
Game of Thrones is currently available to stream on HBO. For more on what to watch, be sure to check out our midseason schedule.
Your Daily Blend of Entertainment News