9-1-1 Will Deliver A Big Buck And Eddie Rescue That Hits 'Too Close To Home'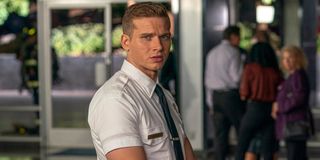 9-1-1's Buck is no stranger to emergency rescues at this point, having suffered through personal and work-related ones. As a firefighter, it's usually all in a day's work. However, some emergencies manage to get under his skin more than others. In an upcoming episode of the Fox drama, 9-1-1 executive producer Kristen Reidel teases that a Buck and Eddie-related rescue will hit "too close to home" for Buck, who's already been through a lot this season.
After surviving a near-fatal accident at the end of Season 2, Buck was on the frontlines when the massive tsunami hit the coast at the beginning of Season 3. While the natural disaster devastated the area, the event forged an even stronger bond between Buck and best friend Eddie's young son Christopher. That said, it's been a while since Buck was center stage for an episode. However, Kristen Reidel promised that an episode focused on the beloved character was coming up soon, one that will see the firefighter personally invested in the case. Here's what Reidel told TVLine about what fans should expect:
That tells us a lot and also very little about the episode. Buck's always been dedicated to his job and to helping people, but I can't imagine why this particular emergency has him "determined to fix" a stranger's life beyond the man being a retired firefighter. I'd wager that there's definitely more to the story here. Whatever the case may be, meddling in another person's life in the hopes of making things better doesn't always end well, but Buck's heart is usually in the right place and it'll be interesting to see how it all plays out, regardless.
Before Buck meets this "kindred spirit," however, the first responders will be busy dealing with an intense hostage situation involving the 9-1-1 dispatch center where Maddie works as an operator.
New episodes of 9-1-1 return on Monday, April 13 at 8 p.m. ET on Fox. While filming on all Season 3 episodes was reportedly finished prior to all the production shutdowns, several other shows were impacted by the halt in filming, so be sure to check out our updated TV list for more on delays and shortened seasons. To see what else is new right now, check out our Netflix premiere schedule!
Your Daily Blend of Entertainment News