How New Amsterdam Will Explain Daniel Dae Kim's Character After Skipping Epidemic Episode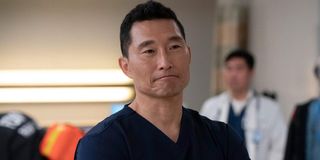 Following the industry-wide shutdowns, New Amsterdam faced a condensed Season 2, and on top of everything else, NBC execs also decided to pull the medical drama's flu epidemic episode in order to be "sensitive to the current climate." The removal of the episode not only shortened Season 2 even further, but it highly impacted the introduction of Daniel Dae Kim's new character. Showrunner David Schulner explained how New Amsterdam will handle the new character's presence after skipping the flu episode.
New Amsterdam's flu episode, called "Our Doors Are Always Open," was originally scheduled to air on April 7, and will reportedly still air at a later date. While the rest of Season 2's major storylines probably won't be affected by the episode not airing, Hawaii Five-0 and Lost alum Daniel Dae Kim was supposed to make his very first appearance on the show as trauma surgeon Dr. Cassian Shin. However, David Schulner and his team figured out a way for Shin's unseen arrival to make sense. Here's what he told TVLine regarding how the character will be worked into the season finale:
Thanks to the magic of television and editing, viewers won't actually miss out on Daniel Dae Kim's character or how he'll fit into the story. David Schulner described Dr. Shin as being "the opposite of Max" and it sounds like he'll push Sharpe's buttons and challenge her worldview, including her loyalty to Max, before all is said and done.
Unfortunately, since the flu epidemic episode was shelved, viewers won't get to see the unfolding personal drama for any of the other characters in the Season 2 finale. So, what'll happen to their storylines and character development? David Schulner said there's at least some kind of plan for their arcs. In his words:
I'd imagine that a whole lot of reshuffling will have to be done to make it work, and that's only if the flu pandemic episode ever sees the light of day. For now, viewers can breathe easy knowing New Amsterdam has already been renewed for Season 3 and beyond, so whatever storyline gets left behind should hopefully make it into the show eventually.
New Amsterdam Season 2 finale airs Tuesday, April 14 at 9 p.m. ET on NBC. For more on when TV's biggest finales are set to air, be sure to check out our complete guide.
Your Daily Blend of Entertainment News