Why Supernatural's Jensen Ackles Thinks The Series Finale's Production Delay Isn't All Bad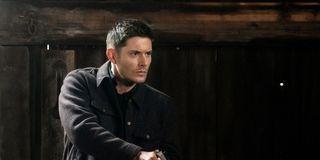 After 15 seasons, Supernatural was gearing up for its long-awaited series finale. How would it end? Would Sam and Dean Winchester finally die for good or carry on with saving people and hunting things? The final episode would've offered up the answers to these questions, but due to the pandemic-related production shutdowns, Supernatural was two episodes shy of completing filming on its final season. However, Jensen Ackles recently explained why he thinks the series finale's production delay isn't all that bad.
On any given day, the brothers Winchester would pack up their 1967 Chevy Impala, hit the road, and go hunt monsters. That is, if they weren't dealing with angels, demons, and the apocalypse. Unfortunately, even Sam and Dean couldn't stop a global pandemic from happening and so, for the first time since the 2007-2008 Writers Guild of America strike, Supernatural ended up with a shortened season. For now, the series finale is on the back burner, but that's not necessarily a bad thing. According to Jensen Ackles, there's some good news amid all the production delays. Here's what he told EW:
That is very much a "silver lining" amid all the uncertainty blanketing the television industry and the world right now. That said, Jensen Ackles and Jared Padalecki have always wanted to end the series on a high note and have been dedicated to giving the finale their all for quite some time. If that means using their time during the shutdown to recharge ahead of filming the series finale, then I'm all for the positive outlook.
And it's not like the series finale will never be filmed, but the idea is for production to pick back up only when it's safe to do so. Showrunner Andrew Dabb promised that the Supernatural team "fully intend to return and finish the series." Just don't expect it to happen anytime soon. In the meantime, fans were offered "special treats" to tide them over, which included the release of a Season 15 blooper reel.
Supernatural won't return with new episodes for a while, but fans can still watch the series through Season 14 on Netflix. For more on what to watch in the interim, be sure to check out our list of all the big TV finales coming this spring and summer.
Your Daily Blend of Entertainment News
Your Daily Blend of Entertainment News
Thank you for signing up to CinemaBlend. You will receive a verification email shortly.
There was a problem. Please refresh the page and try again.