Boy Meets World Star Says She Received Apology From Cast Member Who Called Her Aunt Jemima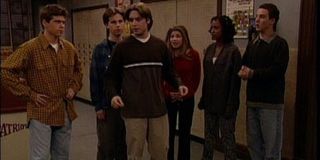 It's been a couple of decades since the beloved sitcom Boy Meets World ended its seven-season run on ABC. Since then, fans of the show have gotten to relive the nostalgia by way of reruns and streaming binges. However, new information came to light regarding Trina McGee's behind the scenes treatment. McGee, who played Angela Moore, reported that she experienced racism during her time on the show, alleging that she was called "Aunt Jemima" by a cast mate, who has been revealed to be Will Friedle. Recently, McGee took to social media to further explain the situation and confirm that she received an apology from Friedle for the comment.
In a series of tweets posted in January (via BuzzFeed), Trina McGee claimed that she was called "Aunt Jemima" and a "bitter bitch" while on the set of Boy Meets World. She also alleged that the tension and disrespect were "extremely stressful" at the time. Though she didn't initially name the co-stars who allegedly demeaned her behind the scenes, McGee recently revealed that it was Batman Beyond alum Will Friedle, who played Eric Matthews, who called her "Aunt Jemima." The story began making headlines and McGee took to Instagram Live to clarify a few things, including that Friedle wrote her a long letter to apologize. Here's what she had to say about the incident:
Trina McGee alleged that the situation was made worse when Will Friedle "tried to soften it up by saying, 'I like your syrup'." That said, McGee said she's since reflected on the incident, claiming that she recently spoke to Friedle and that it was definitely a "teaching moment." According to McGee, the incident "changed" Friedle's life and the way he did comedy. McGee then posted a photo of herself with Friedle from their days on Boy Meets World and wrote a long caption that indicated she forgave him. You can check out her full post below.
Trina McGee reprised her role as Angela in Disney Channel's Girl Meets World, which followed Boy Meets World's original cast into adulthood. However, McGee's role on the show was rather small and she only appeared in one episode right before Rider Strong's Shawn Hunter, Angela's ex-boyfriend, married another woman.
Boy Meets World is currently available to stream on Disney+. For more on what to watch in the coming weeks, be sure to check out our list of all the big TV finales airing this spring and summer.
Your Daily Blend of Entertainment News