Who Are The Masked Singer's Astronaut And Rhino? Here Are Our Best Guesses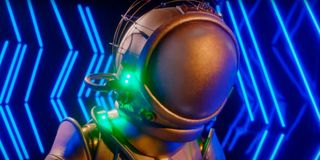 Warning! The following contains spoilers for Season 3 of The Masked Singer! Read at your own risk.
The Masked Singer Season 3 is winding down to its final rounds, and soon enough, there will be another winner of the series. The end hasn't come just yet, which means there's still a chance for the Fox series to surprise its audience with who is behind the mask of their remaining contestants. Some believe they know the true identities of the Astronaut and Rhino, but are their guesses accurate?
For any fan looking to see if they're on the right track, I've analyzed the clues, followed the buzz, and have stone-cold locks for the identities of The Masked Singer's Astronaut and Rhino. In my defense, I have a pretty solid track record so far, so let's dive in and get to the bottom of who these two contestants are.
The Astronaut
The Astronaut was an early favorite in The Masked Singer Season 3, and now is within striking distance of winning the entire competition. He hails from Group C which consists of 3 of the final 5 of Season 3. Not only is coming from the most competitive group a point in his favor, it's worth noting he was never even at risk of elimination until recently. What's more impressive is that Astronaut has kept a consistent streak alive despite singing a wide variety of songs. Who could this talented singer be?
The Clues
Astronaut has talked a lot about re-invention and restarts, and his voice makes it feel rather obvious he's someone with experience in the music industry. The Masked Singer has also alluded to some form of record that he holds, as evidenced by a "broken record" with a world on it. Other clues have teased he has some ties to Stevie Wonder, is a fan of coffee, and took a hard fall in front of thousands of people. Sorry to Astronaut, but that sounds like an event that would be fairly easy to track down. Combined with the rest of these clues, it shouldn't be too hard to figure out who Astronaut is.
Who Has Been Rumored To Be The Astronaut
There have been many guesses towards the Astronaut's identity, though I'd be lying if one guess didn't get picked a lot more than others. Right now the reigning popular pick is singer Hunter Hayes, though others like David Archuleta, The Weeknd, and Lance Bass are in the mix as well. The thing all those have in common is that they're all professional singers, which again speaks to the talent of Astronaut and the chance he has at winning this thing.
Who I Believe The Masked Singer's Astronaut Is
There's a reason Hunter Hayes is the most popular suggestion on the internet. Key clues point to the singer, mainly the world record he set for more concerts performed in different cities in a single day. He also started out performing in coffee shops, performed with Stevie Wonder on Dancing With The Stars, and yes, fell in front of a bunch of fans when performing live in concert. Take those clues, Astronaut's shorter frame (Hayes is 5'6), and the fact that the two voices match, and Houston, we have our astronaut.
The Rhino
Large mammals historically have not had great runs on The Masked Singer, but the Rhino has broken that stigma in Season 3. He has emerged as a front-runner to win this competition, especially after defeating The Banana, a.k.a. rock and roller Bret Michaels to stay in the game. Much like his buddy Astronaut, Rhino has advanced through singing a wide variety of songs by artists from different genres. That's not something all contestants can do, so it's hard to be down on his chances of winning.
The Clues
The Rhino is dressed like a character out of Talespin, so it appears there is some connection between him and flying. He has also spoken of singing and dancing being something that is out of his comfort zone, which means singing is not something he has done professionally on a regular basis. With that said he has copped to having an album viewers may own, though his exceptionally tall physique hasn't thrown any judges off the trail he is/was a professional athlete.
Who Has Been Rumored To Be The Rhino
The internet has been all over the place with The Masked Singer's Rhino. Andy Grammer has been floated a lot as a potential contestant, as have more prolific folks like John Travolta. Even former NFL star Tim Tebow has been thrown out there, but he's not the only athlete in the mix. Former pitcher and musician Barry Zito is also a possibility for some viewers, and certainly fits the bill as someone who could go far on The Masked Singer.
Who I Believe The Masked Singer's Rhino Is
The stuff about flying isn't necessarily to say the Rhino is a pilot, but rather an "ace." That's a term used to refer to fighter pilots, and also the best starting pitcher on a baseball team. Barry Zito pitched for the Oakland A's and San Francisco Giants, and has a Cy Young award and World Series title to show for it. While playing baseball Zito took up the guitar, and spun that into a respectable stint in music. Much like Victor Oladipo, Rhino has too many clues that point to his music and sports for it to be anyone else than Zito.
How Solid Are These Picks?
Like I mentioned earlier, there's really no guaranteeing any guess until The Masked Singer reveals each contestant, but I'm feeling 95% confident in these choices. Astronaut and Rhino's clues point to very specific stuff that makes it easy to drill down on Hunter Hayes and Barry Zito, and once those names are floated everything else begins to make sense. Unless The Masked Singer producers have become sudden masters of deception, I'd be more than willing to bet a small fortune these two are competing on The Masked Singer.
The Masked Singer airs on Fox Wednesdays at 8:00 p.m. ET. Stick with CinemaBlend for more on the singing competition, and for the latest happening in television and movies.
Your Daily Blend of Entertainment News
Mick likes good television, but also reality television. He grew up on Star Wars, DC, Marvel, and pro wrestling and loves to discuss and dissect most of it. He's been writing online for over a decade and never dreamed he'd be in the position he is today.
Your Daily Blend of Entertainment News
Thank you for signing up to CinemaBlend. You will receive a verification email shortly.
There was a problem. Please refresh the page and try again.