The Masked Singer: We're Feeling Pretty Good About Thingamajig's Identity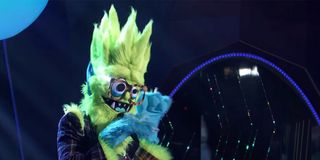 Spoilers ahead for the Season 2 premiere of The Masked Singer.
The Masked Singer Season 2 is officially underway, which means the internet detectives are out in full force trying to guess the identities of this year's contestants. We've already learned who two competitors were in the premiere, but as of writing, the rest are one big mystery. Well, for many anyway, as I'm feeling close to 100% confident on the identity of The Thingamajig.
The judges were on the right track when they thought The Thingamajig was a basketball player; they just didn't nail down who. Those who are fans of the Indiana Pacers may know quite well, and may think this is the rather obvious reveal the rest of the world didn't see coming. Here are some of the tells, and why I'm already saying there's a slim chance there's anyone under the mask besides Victor Oladipo.
The Trademark Gestures And Slang
Although Victor Oladipo may not be an NBA star with the level of celebrity as LeBron James or Steph Curry, he is fairly beloved in the state of Indiana. Fans fell in love with Oladipo when he first played for Indiana University, and came to the Pacers in a high profile trade for Paul George. Some had their doubts Oladipo could perform at the level of George, but fell instantly in love with him after his first game-winning shot against the San Antonio Spurs. Soon after the shot, Oladipo pointed towards the ground and yelled to the cheering fans "This is my city."
In the premiere of The Masked Singer, viewers need to take an extra close look at when Thingamajig was talking to the judges. During the conversation, he does the exact trademark finger point towards the ground he's done so often on the basketball court. Also, did anyone notice his outfit is the Pacers' signature colors blue and gold?
Another trademark of Victor Oladipo appeared in the clue video, in which he referred to himself as "feathery." That's a slang term Oladipo has been trying to get off the ground for a while now, and a quick search will show he uses it quite often in his tweets. It's caught on within the Pacers organization, but hasn't quite hit mainstream appeal just yet. Regardless, this was another sure sign Thingamajig is Oladipo.
Victor Oladipo Is A Professional R&B Artist
When he's not balling out on the basketball court, Victor Oladipo is in the recording studio. He's a signed recording artist, and has collaborated with artists like PnB Rock and 2 Chainz. Oladipo majored in music when he went to college, and hilariously enough, was told he probably had a brighter future in music than he ever would in basketball.
As it turned out, Victor Oladipo got to have his cake and eat it too as he's an NBA All-Star, and a successful recording artist. Now he can presumably add reality TV contestant to his resume as well, because there's no denying Thingamajig's performance sounds quite similar the Pacers star's voice on one of his songs.
Victor Oladipo Has Been Nursing An Injury In The NBA Offseason
Victor Oladipo has been nursing a season-ending injury he sustained in the last NBA season. While it may not be entirely accurate to say he's had a reduced workload during his time off, Oladipo's rehab process may have a more flexible schedule that he would if he was practicing or participating in conditioning or overseas basketball tournaments.
Oladipo is not expected to return to the NBA until around midseason, though it's unknown if there would've even been a scheduling conflict if he went all the way in the competition. Just to say it though, the season opener did show a quick shot of Thingamajig pulling off his mask, so one would presume his unmasking has already been taped. So, even if some surprising news surfaces where Oladipo is active at the start of the NBA season, The Masked Singer shouldn't be affected.
The Masked Singer: The Most Surprising Reveals From Season 1
So, now that you've read (and possibly heard) the evidence, do you think The Thingamajig is Victor Oladipo? Vote in our poll below, watch The Masked Singer Wednesdays at 8:00 p.m. ET on Fox, and be sure to stick with CinemaBlend for all the latest news in television and movies.
This poll is no longer available.
Your Daily Blend of Entertainment News
Mick likes good television, but also reality television. He grew up on Star Wars, DC, Marvel, and pro wrestling and loves to discuss and dissect most of it. He's been writing online for over a decade and never dreamed he'd be in the position he is today.
Your Daily Blend of Entertainment News
Thank you for signing up to CinemaBlend. You will receive a verification email shortly.
There was a problem. Please refresh the page and try again.