Solar Opposites: Why Rick And Morty Fans Should Be Excited For Justin Roiland's New Hulu Show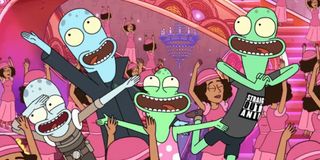 Pop quiz: name a more influential and widely beloved science fiction show on television right now than Rick and Morty. If you can't, I am not surprised, as the animated series from Dan Harmon and Justin Roiland is more popular than probably they, or even the execs at Adult Swim, could have ever expected. That being said, Roiland should be able to feel even more confident this time about, Solar Opposites his new series coming to Hulu on Friday, May 8.
Co-created by Justin Roiland and Rick and Morty executive producer Mike McMahan, Solar Opposites follows a family of extraterrestrials who escape their planet minutes before its destruction and find refuge on Earth, but are now faced with a culture clash that causes them to rub elbows with their new human neighbors, and each other. So, in other words, it is yet another family drama interspersed with zany hijinks drenched in a passion for the bizarre, as you can see promised in the first teaser trailer below:
A goofy, self-aware, sci-fi family dramedy is also essentially what Rick and Morty is so, while the creators have noted plenty of contrasting elements (which I will get to), Solar Opposites seems to be just what fans are looking for as they wait however long it will take to release the next season. The following are six reasons that further prove that claim. Wubba lubba dub dub!
Solar Opposites Puts Another Mismatched Pairing At The Forefront
As previously mentioned, Rick and Morty soars as both an absurdist sci-fi adventure and a sitcom honoring dysfunctional family values. That is basically what Justin Roiland and Mike McMahan seem to be going for again this time with Solar Opposites, right down to the concept of placing the union of two vastly contrasting personalities as the main leads.
Leading the series' central family of aliens (also including Mary Mack as Jesse, Sean Giambrone as Yumyulack, and the dangerous Pupa, whose voice actor is currently unknown) is the curmudgeonly Korvo (Justin Roiland) and happy-go-lucky Terry (Silicon Valley's Thomas Middleditch), whose naive perception of human behavior seems to be all they have in common. Their outfits alone should be able to tell you everything: Korvo continues to dress in his homeland's traditional attire in protest of his new earthly environment and Terry's shorts and T-shirt clearly reflects his blissful assimilation into human culture. Whoever's attitude proves more problematic is to be determined.
Celebrities Slated To Make Guest Appearances
I have always been an admirer of Rick and Morty's rotation of special guest voice appearances and the roles they choose to cast them in. Keith David is unforgettable as the President, Stephen Colbert is hilarious as Rick-like scientist unwittingly living in the hovercraft's battery, and SpongeBob Squarepants himself, Tom Kenny, has voiced many memorable characters on the series and is also one of many Rick and Morty veterans and newcomers alike slated to make cameos on Solar Opposites.
The celebrity guests also include Alfred Molina (who once played the Devil on a Rick and Morty episode), former Mad Men star Christina Hendricks (also Rick's ex, Unity), nerd icon Alan Tudyk, and Sean Giambrone's mom from The Goldbergs Wendi McLendon-Covey. Those are just a few of the names whose voices we will have the pleasure of hearing in the first season of Solar Opposites.
Promos Have Teased Plenty Of Pop Culture References
The secret to many of Rick and Morty's most memorable episodes is how they brilliantly play into nostalgia, practically recreating the plots of classic movies and TV shows with a clever enough twist to sustain originality (i.e. a human body made into a public attraction like Jurassic Park or an alien planet with an annual purge of murderous tendencies). Fans could clearly see from the promotional material for Solar Opposites that there is plenty more referential humor in store. I mean, just see for yourself in the series' longer, more recent trailer below:
I found four pop culture riffs in the first teaser alone, including a "black hole" that bears resemblance to a Stargate to the zombie-fighting weapons the aliens use looking like variations of a lightsaber. The longer, more recent trailer also has send-ups that might require a more eagle-eyed perception, such as a brief glimpse of a particularly Seinfeldian apartment, and some that are more distinct, like Jesse and Yumyulack's principal referring to their activity as "Outer Limits bullshit." I think that we can expect even more than just what the promos have teased with Justin Roiland and Mike McMahan involved.
That Good Ol' Morbid Justin Roiland Humor
Furthermore, as per usual with anything that Justin Roiland and Mike McMahan are involved with, the humor in Solar Opposites is sure to be something you would not find on the back of a Laffy Taffy wrapper. If you are not adept to the "mature" pastiche of Rick and Morty, perhaps you should take another look at the new series' trailers above for a deeper understanding of what I mean.
You got Jesse and Yumyulack rotting their bully's brain with soda, Terry and Korvo unwittingly leading a paraplegic to his drowning death with mechanical legs, and more than a few drug references and bloody corpses throughout. On the other hand, Justin Roiland has touched on how one of the biggest differences between Rick and Morty and Solar Opposites is how the family dysfunction is far less severe than that of the Smith clan (mostly at the fault of Rick), ensuring a comparatively lighter tone in that regard. Based on the trailers alone, however, that looks to be the extent of the show's "lightness."
Hulu Original = UNCENSORED
Fortunately, Solar Opposites has the benefit to be as dark or raunchy as it wants to be. The creators' morbidly curious fans have Hulu, the series' exclusive home, to thank for that.
Excluding the ones who download full episodes of Rick and Morty, viewers who have devoted themselves to following the show on actual television are forced to endure pixelated blocking and bleeped profanity as a consequence of Adult Swim's standards and practices. Of course, there are no standards and practices for subscription-based streaming service, meaning Solar Opposites possesses the freedom to get schwifty.
Chance For A Rick And Morty Cameo?
Speaking of getting schwifty, it is clear that Solar Opposites, prior to its premiere, has not been shown mercy from comparison to Rick and Morty (this article alone is an essential piece of evidence to that). While I am certain that there is enough within the show (outside of its similar animation style, sci-fi lunacy, and familial themes), I have to wonder, Will there ever be a crossover?
You could make the argument that this series already looks like something the Smith Family might click on while watching inter-dimensional cable and there are few alternate realities that Rick and Morty have yet to explore already so the chances of them crossing paths with Korvo and company do not seem like a stretch, narratively speaking, that is. With the shows existing on disparate platforms makes that crossover less likely, but if they can find a cleverly subtle way to work around it, that might be satisfying enough. I mean, they managed a brief cameo in The Simpsons.
What do you think? Have I made you even more excited for Solar Opposites than before, or did this have no effect on your previous interest in the series rooted in your existing Rick and Morty fandom? Well, let us know in the comments and be sure to check back for more info and updates on Justin Roiland's career here on CinemaBlend.
Your Daily Blend of Entertainment News
Jason has been writing since he was able to pick up a washable marker, with which he wrote his debut illustrated children's story, later transitioning to a short-lived comic book series and (very) amateur filmmaking before finally settling on pursuing a career in writing about movies in lieu of making them. Look for his name in just about any article related to Batman.
Your Daily Blend of Entertainment News
Thank you for signing up to CinemaBlend. You will receive a verification email shortly.
There was a problem. Please refresh the page and try again.