The Internet Has Blunt Thoughts About Rumors Kristin Cavallari Believes Jay Cutler Was 'Unmotivated'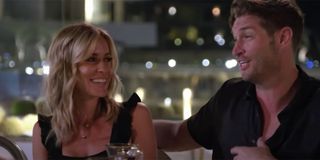 Rumors this past week in what is becoming the saga of Jay Cutler and Kristin Cavallari's conscious uncoupling have indicated the latter found the former Bears quarterback to be "unmotivated" during their marriage. The report came from an unnamed source, but it hasn't stopped people from having lots of responses to Cavallari's alleged feelings.
In fact, although early on divorce-related posts took some shots at Jay Cutler and even tied his football career failures in with his marriage's demise (or declared he'd make a perfect Bachelor contestant), now other people online are singing a different tune, like this guy who defended Cutler's work ethic.
While some think Jay Cutler deserves a rest, other people really feel as if Jay Cutler has been open about his personality the entire time the couple has been married and this is not new news.
And this fan simply wants to make it understood he feels NFL fans are the only ones allowed to speak about Jay Cutler's work ethic.
The gist of the original Page 6 report indicated Kristin Cavallari found Jay Cutler to be "unmotivated" following his retirement from football. It suggests that she thought he'd be big in the sports broadcasting world by now, as has happened with other retired players before him, but instead he wasn't doing much before she landed their hit show Very Cavallari.
In general, divorce is just a messy process. If you throw in fame and strangers being willing to say whatever they want on the internet, it gets even messier. The good news is that both parties seem to now be wanting to move forward now and get the process done fairly quickly, even reaching a custody agreement for their three kids. Jay Cutler also reportedly released funds to Kristin Cavallari just a few weeks after things seemed to be getting heated between the two. This calmer news comes after early paperwork was combative and intense for the couple.
People have some thoughts about Kristin Cavallari, too, as Jay Cutler had to release funds so she could buy a house recently. Meanwhile, this Very Cavallari clip exists where she says she should be able to mooch off Cutler but keep her own money separate.
Still, some online users are hoping the couple has largely avoided the news cycle around their impending divorce.
Kristin Cavallari and Jay Cutler are both fairly active on social media normally, but have been less active since their divorce posts. Cavallari did post a picture with her kid Jaxon on his 6th birthday as well as a Mother's Day post since the divorce news, but it's hard to tell whether or not they are keeping tabs on the tabloids during this time.
If the rumors hold true it's no surprise that they are splitting up now, but how ironic would it be if because of this change in their lives, Jay Cutler got a broadcasting job and Very Cavallari got cancelled, which is actually a possibility given people loved Cutler's humor on the show. We'll have to wait and see how it all pans out though, so stay tuned.
Your Daily Blend of Entertainment News
Reality TV fan with a pinch of Disney fairy dust thrown in. Theme park junkie. If you've created a rom-com I've probably watched it.