The Boys' Mother's Day Celebration Is Truly F'd Up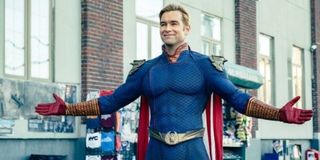 The Boys Season 1 provided a very twisted take on the classic superhero story. In lieu of do-gooder vigilantes, the Amazon series offered up corporate-controlled villains masquerading as heroes. The show went to pretty dark places and revealed deep-rooted mommy issues for Homelander, in particular. So, leave it to The Boys to turn a Mother's Day celebration into something truly fucked up.
All throughout Season 1, Homelander, the terrifying leader of the elite superhero team called The Seven, proved himself a mentally unstable and hot-tempered man. The only person who could really keep him in check was Madelyn Stillwell, The Seven's manager. Their relationship was fairly disturbing because, though Homelander was definitely attracted to her, he also saw her as a mother-figure. Suffice it to say that the freaky nature of their relationship is on full display in a video made to, uh, celebrate Mother's Day. Check out the official Twitter post below!
The brief video highlights all of the gross moments between Madelyn and Homelander. From cradling him like a child while he sucked on her fingers to asking him to take off his pants, their fucked up relationship is out there for everyone to see. While many celebrated Mother's Day with thoughtful and heartfelt gestures, The Boys' holiday post went the extra mile and exemplified how truly warped the show is.
The turning point in their relationship in Season 1 occurred when Homelander found out that Madelyn, the one person he thought he could trust, had kept a rather huge secret from him. Naturally, she was scared of what he would do to her and her actual baby. Fans of The Boys know for a fact that Madelyn and Homelander's close and creepy bond didn't exactly end well and it'll be interesting to see if Homelander carries on with his unhealthy attachments in Season 2.
Speaking of Season 2, things for the titular characters — who have made it their mission to stop The Seven — are about to get more complicated. What's more, both Homelander and Billy Butcher will have to contend with the fact that Rebecca, Butcher's wife, is still very much alive. Meanwhile, Homelander will be challenged by The Seven's latest addition, Stormfront. Described as a "nuclear bomb," Stormfront will be shaking things up in a major way and I'm almost positive that dear old Homelander will not be a fan.
The Boys Season 2 wrapped filming and is scheduled to premiere at some point this summer. There are also rumors that the show will be renewed for Season 3, but nothing has been confirmed yet. Stay tuned to CinemaBlend for the latest. In the meantime, you can catch up on all eight episodes of Season 1 on Amazon Prime.
Your Daily Blend of Entertainment News
Your Daily Blend of Entertainment News
Thank you for signing up to CinemaBlend. You will receive a verification email shortly.
There was a problem. Please refresh the page and try again.